The City of Dubuque was recognized at the 2022 America in Bloom (AIB) National Awards Program held in St. Louis from Sept. 29-Oct. 1. Dubuque received top honors including the Over 35,000 Population Category Award and an All-America Selections Showcase Garden Award.
Dubuque also received special recognition for its Environmental Efforts from its AIB advisors who spent two days this summer touring the community and meeting municipal officials, residents, and volunteers. City Council member Susan Farber, Parks and Recreation Commission member Jennifer Tigges, and Leisure Services Lead Administrative Assistant Kristen Dietz attended the AIB symposium and accepted the awards on the City's behalf.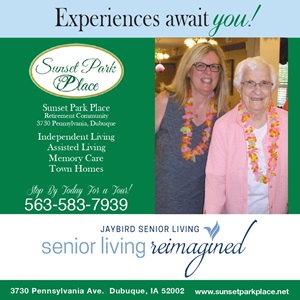 In addition, City Council member Susan Farber was honored as a nominee for the 2022 Dwight Lund Community Champion Award which recognizes an individual who exemplifies community leadership and has demonstrated a vision and selfless commitment to moving the community forward.
Dubuque's participation in the National Awards Program was part of a $25,000 AIB/CN EcoConnexions From the Ground Up grant the City received for the Re-Imagine Comiskey Park Redevelopment Project.