Haiku Canada recently announced that Tsugigami: gathering the pieces by Valorie Broadhurst Woerdehoff and Connie R Meester was named a First Place winner in the inaugural Marianne Blugar Book Awards. Haiku Canada was founded in 1977 and is a national society of haiku poets and enthusiasts dedicated to promoting and fostering haiku and related short poetry forms in Canada and abroad.
The volume earning honors is a selection of the authors' collaborative linked verse spanning a remarkable 24-year partnership. Considered pioneers in this unique poetic form and others, Meester and Woerdehoff explore a wide range of relatable topics from everyday life in their work.
The book was published in 2018 by Red Moon Press, of Winchester, Va., and was short-listed for the Haiku Foundation's Touchstone Distinguished Book Award in late 2018, having received strong reviews from both Modern Haiku and Frogpond (the literary journal of the Haiku Society of America).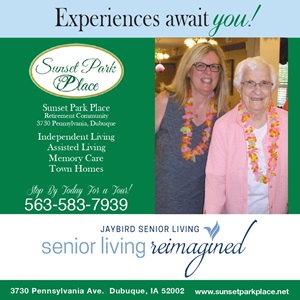 Woerdehoff has been writing long and short poetry, as well as essays, for 40 years. More than 400 of her pieces have appeared in journals and anthologies. Her work is included in two outdoor haiku paths and has garnered awards in national and international competition. She has worked in professional roles at Loras College for the last 26 years and lives with husband Tom Woerdehoff in Dubuque.
Tsugigami is currently available at River Lights Bookstore in Dubuque, from the authors for $25 each retail (wholesale prices available), or from Red Moon Press, PO Box 2461, Winchester, Va., 22604-1661 (add $6.00 shipping), or order online at www.redmoonpress.com.