Dubuque Main Street hosted the State of Main Awards Celebration on October 25, 2022, to recognize excellence in downtown development in the areas of economic vitality, design, organization, and promotion.  Nearly 130 guests attended the event at the Hotel Julien Dubuque. The awards were presented virtually in 2020 and 2021 due to covid-19. Congratulations to the following businesses for their impact in downtown Dubuque in the past year!
Best Retail Expansion
Jubeck New World Brewing, 115 W. 11th St.
Dubuque's first micro-brewery was crowdfunded by the community and opened in Dubuque in 2014. Due to great beer, teamwork, and strong supporters, Jubeck's expanded by 1,500 sq/ft.
Best Total Building Rehab
Conlon Construction for the Kretschmer Lofts, 895 Washington St.
To meet the continuing housing demand in our community, Conlon Construction has added 43 units in a former Kretschmer-Tredway manufacturing building. It's easy to understand why it took less than three weeks to fill the units as they come with access to storage, rooftop decking, a sports lounge, and a wi-fi/coffee room. It is downtown living like this that will attract the future of Dubuque.
Best Food Service Expansion
The Crepe Iron, Jeremy and Sarah Goodall, Owners
From their start at the Dubuque Farmers' Market under a canopy, their new food truck made its debut when the market opened in May. This business is a shining example of what the Farmers' Market should do: grow local creators into business owners.
Best New Nightlife Venue
Esther's Lounge, 123 Main
Located in the lower Main Street district, this new business fits right in. It has introduced itself as a hub for arts, culture, live music, and carefully curated cocktails. With the support of its sister business, 1st and Main, this new venture is sure to serve Dubuque for years to come.
Best Façade Improvement
Mozena Realty Group, 1540 Central Ave.
The owners of this development group are helping restore downtown Dubuque, one building at a time. At their property, they were able to make subtle yet important changes that brought out the texture and cultural significance that historical buildings often hide under layers of paint and metal.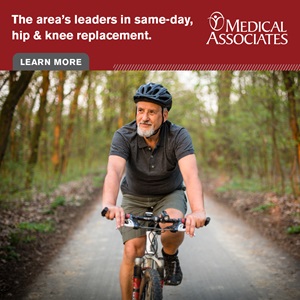 Best Community Initiated Project
The Dubuque Food Pantry, 1310 White St.
The organization serves more than 500 families and 150 seniors a month. The need to expand was evident and became a dream come true when all stars aligned. The new location is more accessible and fills an important community need.
Best Visual Merchandizing
Fig Leaf, 345 Bluff St.
This second generation business will celebrate 31 years this December. The belief that creative merchandising equals more sales has served them well. It has been located in the Cable Car District for 12 years and invites all to walk through to see what they mean.
Best Adaptive Reuse Project
Steeple Square Lower Event Level, 101 E. 15th St.
Three components comprise the significant renovations to the former dirt-floor basement of St. Mary's Parish: the Sr. Helen Huewe Culinary Kitchen, the BVM Community Center, and the McCoy Multipurpose Room. The former church and co-located buildings have become a significant community asset serving many downtown residents and community members.
Best Relocation to Downtown
Origin Design, 137 Main
Making the move from Dubuque's west side to the historically preserved Platinum Building, they occupy three floors and offer architecture, field service, land surveying, and engineering services that focus on unique designs. Renovations to the first floor resulted in open meeting spaces and improvements in lighting.
Best New Retail
The Sorpresa Gifts, 269 Main
The award represents 30 years of retail success with some inspiration from 'mom.' Sorpresa means "surprise" in both Spanish and Italian. At the new gift store, there are fun and unique surprises at every turn.