On April 7, the University of Dubuque inducted two individuals into its Faculty Hall of Fame for Excellence in Teaching and Advising. Mark Sinton, PhD, associate professor of chemistry, received the 2022 John Knox Coit Prize and Jim Romagna, EdD, head of the Department of Health, Wellness, and Sport and assistant professor of health, wellness, and sport, received the 2022 William L. Lomax Award.
Sinton has been teaching at UD since fall 2004. He helped design the University's revived chemistry major and has taught all of the offered chemistry courses at one point or another. In addition to his teaching load, Sinton also is the director of the Joseph and Linda Chlapaty Summer Research Fellowship and the John and Alice Butler Summer Research Fellowship.
Sinton received his undergraduate and masters of chemistry degrees from the University of Denver in Denver, Colorado. He earned his doctorate of philosophy degree in biochemistry from Michigan State University in East Lansing, Michigan.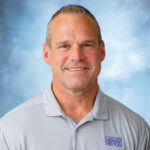 Romagna joined UD in fall 2007 and was named the head of the Department of Health, Wellness, and Sport in 2012. He received both an undergraduate degree in English writing and a master's degree in physical education from Loras College. Romagna also received a doctor of education in educational leadership from National Louis University in Chicago, IL. In addition, he is a certified strength and conditioning coach and a certified personal trainer with the National Strength and Conditioning Association.

Romagna shares his passion for health, wellness, and fitness with his students as they prep for national certifying exams, gain experience for careers in the industry, and pursue graduate school in the health sciences. In addition, it's not uncommon for Romagna to carry an advising load of 50 to 100 students a semester.