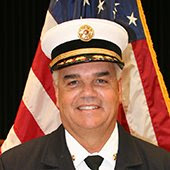 Dubuque Fire Chief Rick Steines will retire on March 31, 2022, after nearly 37 years of service with the Dubuque Fire Department. He has served as fire chief since August of 2014.
In October 2021, under Steines' leadership, the Dubuque Fire Department became one of fewer than 300 fire departments in the world and just five other departments in Iowa to be accredited by the Commission on Fire Accreditation International, a division of the Center for Public Safety Excellence. Also in 2021, the Fire Department received the Mission Lifeline Gold Plus award for its excellence in the treatment of heart attacks. This was the second year in a row the department has received this recognition for its efforts to implement quality improvement measures for the treatment of patients who experience severe heart attacks.
Following an evaluation of Dubuque's fire protection service, the national Insurance Services Office (ISO) upgraded the City of Dubuque's fire suppression capabilities rating to Class 2 in 2016 based on the City's fire department, emergency communications, water supply, and community risk reduction. Dubuque's Class 2 rating is the second-highest rating possible and puts Dubuque among the top 3% of the more than 48,000 fire departments in the United States evaluated by ISO.
Steines began his employment with the City of Dubuque Fire Department in June 1985. He received promotions to fire equipment operator in November 1988, fire lieutenant in August 1990, fire captain in July 1992, and assistant fire chief in July 1999. Steines earned an associate's degree in fire science from Northeast Iowa Community College and has completed the executive fire officer program at the National Fire Academy. He also attended the Midwest Fire Service and Executive Institute and holds an Iowa Fire Service Senior Management Certificate.