MercyOne is pleased to announce Hijinio Carreon, DO, FACEP, FAAEM, MBA, has accepted a role as system-wide Chief Medical Executive. Dr. Carreon has been a part of the organization for more than 13 years, beginning as an emergency medicine physician and advancing to his most recent role as Chief Medical Officer and Vice President of Medical Affairs for MercyOne Central Iowa.
Dr. Carreon will work closely with clinicians and medical staff members across MercyOne, including serving as the system liaison to the ministries' Chief Medical Officers. Dr. Carreon transitioned from his current role beginning May 17.
In addition to his roles at MercyOne, Dr. Carreon serves as co-medical director of EMS for the Mercy College of Health Sciences.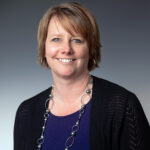 Brenda Kennicker has been promoted to director of care management at MercyOne Dubuque Medical Center. Brenda has been serving as a case manager and clinical coordinator at MercyOne Dubuque since 2016 and previously served as a nurse in the areas of home health, public health and hospice at Grant County Health Department. She has over 20 years of experience.

Brenda holds a Bachelor of Science in Nursing from Viterbo College and a Master of Science in Nursing from Western Governors University. She is also certified in case management.