Dr. Shannon Huff is a Board Certified OB/GYN provider and will offer complete obstetrical care for high risk and normal pregnancies, routine health services including annual examinations and PAP testing, and birth control counseling. She will also provide the diagnosis and treatment of diseases and conditions affecting the female reproductive system, including infertility. Dr. Huff previously worked as an OB/GYN physician at Atrium Health Stanly Women's Services in Albemarle, NC.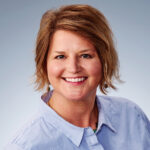 Medical Associates also announced the hiring of Karyn Kuennen, DNP is a Board Certified Advanced Practice Nurse Practitioner. As a member of Medical
Associates Hospitalist team, she will work closely with patients, families, physicians and hospital staff to deliver expert inpatient medical treatment. Previously, Karyn worked at MercyOne Dubuque Medical Center as a Registered Nurse.