The University of Dubuque recognized the many achievements by students and their involvement in campus life at Honors Convocation on April 15, 2021. To accommodate proper health and safety protocols, the in-person audience in John and Alice Butler Hall, Heritage Center was limited to award presenters and recipients. The ceremony was livestreamed at Facebook.com/UDubuque and youtube.com/UDBQMedia.
Over 180 scholarships and awards were given or acknowledged at the ceremony. UD bestowed high student, faculty, and staff honors upon six individuals and one student organization towards the conclusion of the ceremony. Here are a couple of award recipients.
University Leadership Award
En-Yu (Sam) Wu (C'21) – Nursing Major from Taiwan
This is the highest leadership honor awarded by UD, given annually to one senior-level college student. It is given to the student who has shown commitment beyond personal gain, served fellow students, encouraged and promoted positive actions in others, and demonstrated in his or her personal life the true spirit of the Mission of the University.

En-Yu (Sam) Wu also won Student of the Year Award
This award is given annually to recognize one undergraduate college student who exemplifies qualities of personal, college, and community achievement which the University seeks to honor. This student has an above average classroom record and is involved in campus and/or community activities. The Student of the Year Award is chosen by election of the University faculty and staff members.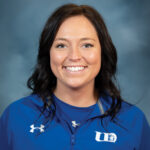 Senior Academic Athletic Award
Lexi Schmidt (C'21) – Communication Major and Softball Player from West Point, IA
This is the highest honor awarded by the Department of Athletics. It is given to the student-athlete who has demonstrated an excellent academic record and has made a major contribution to his or her team in the athletic area. The recipient must also demonstrate the personal qualities inherent in the Mission of the University and the Wendt Character Initiative.