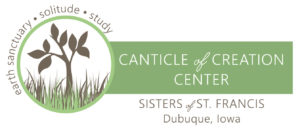 Presenting a series of virtual programs about spiritual and emotional wellness, which began on March 22. The series' co-sponsors are the National Mississippi River Museum and Aquarium, Lutheran Services in Iowa, Inc. of Dubuque, and Crescent Community Health Center. All events are on Zoom.
How Spiritual Wellness Acknowledges Our Search For Deeper Meaning In Life
April 15 @ 6:30 PM-8 PM,
Presenters Father John Haugen, Dave McDermott, Nathaniel Gee, Sister Reyna Badillo, OSF, and Jane Heiar.
Knowing God
April 26 @ 6:30 PM-8 PM
Beth Norcross will present on the essential way of knowing God and hope in nature and the presence of God in the natural world.
All programs can be accessed by Zoom at Tinyurl.com/34aprwkr. Or visit Zoom.us and enter in meeting ID 861 2111 7686 and passcode 528346. The events are free and all are welcome.

For more information, contact Lori Apel at apell@osfdbq.org or (563) 583-9786.