Eagle Point Solar announced it has hired Melissa Grundhoefer as a Sales Documentation Specialist in Dubuque, IA. Melissa is tasked with the gathering, completion and filing of all documentation materials needed to onboard new Eagle Point Solar clients as well as manage the workflow for digital documentation contract signing. Additionally, she is instrumental in supporting multiple communication channels providing real-time operations and construction updates and scheduling information to our clients. Melissa received her Bachelors of Business Administration from Loyola University, Chicago, IL.
Eagle Point Solar announced it has hired Drew Wagenhoffer as their Solar Energy Consultant covering the Iowa corridor. Drew will be working from the Eagle Point Solar Cedar Rapids office location. Wagenhoffer will be tasked with educating residents, businesses, non-profits, school districts, and government entities on the environmental and financial benefits of solar. Additionally, Drew will be educating people on solar incentives and funding options, which are very attractive in Iowa.
Eagle Point Solar announced it has hired Emily Doland as a Senior Staff Accountant in Dubuque, IA. She is tasked with daily management of accounts receivable, inventory evaluation, fleet management, fixed asset management, sales/use tax reporting, and various other general accounting department duties.
Emily holds a Certified Public Accountant (CPA) certification in the State of Illinois along with a Bachelor of Business Administration in Accounting from the University of Dubuque, and a Bachelor of Science in Political Science from the University of Iowa.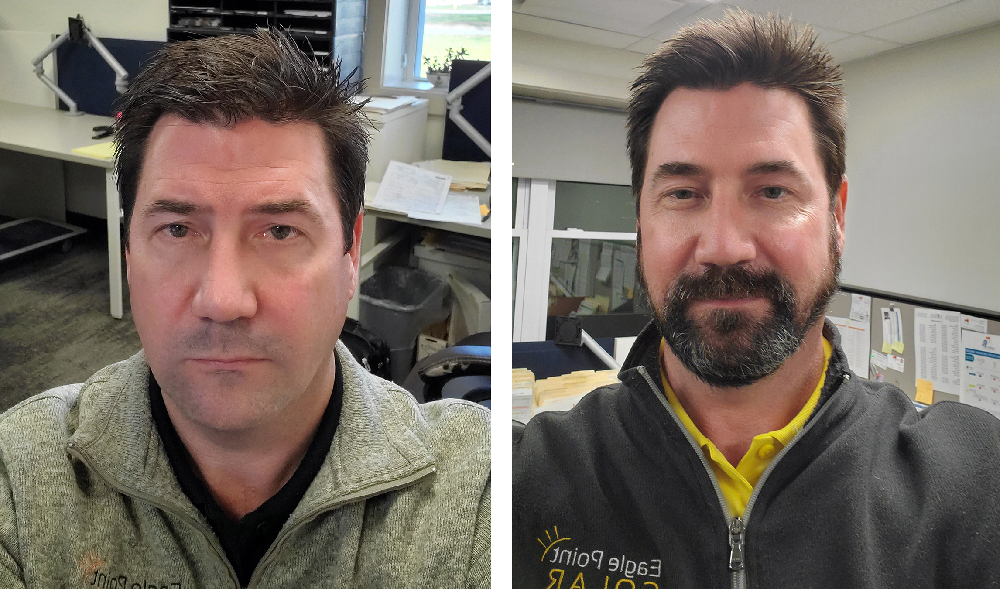 In November, staff with Eagle Point Solar participated in a "No Shave November" contest to help raise funds for a non-profit organization. The contest, created by the staff-run Acts of Sunshine committee, allowed participants to donate any amount to participate. The winner of the contest received bragging rights and the opportunity to choose a non-profit of their choice to donate the funds collected.
The contest raised a total of $204 and the Acts of Sunshine committee donated an additional $46 to round the collection to $250. Eagle Point Solar Energy Consultant, Kent Kraus won the contest by a narrow margin of one point.