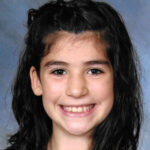 St. Mark Youth Enrichment and one of its students, Lucy Houtakker, received awards during the virtual Impact Afterschool Conference hosted by the Iowa Afterschool Alliance. Houtaker received the 2020 Outstanding Afterschool Student of the Year Award and St. Mark received the 2020 STEM Achievement award.
The Outstanding Afterschool Student Award honors students who reflect the best of the best among Iowa's children and youth, based upon the degree to which they represent afterschool programs' priorities of engagement, good character, academic achievement, and leadership.
Presented by the Iowa Afterschool Alliance and the Iowa Department of Education, the STEM Achievement Award was given to St. Mark Youth Enrichment for demonstrating the greatest achievement in STEM programming. Last school year, St. Mark had the opportunity to work with the U.S. Department of Education's 21st Century Community Learning Centers (21st CCLC) program and partner with NASA to bring engaging and authentic hands-on STEM Design Challenges for 3rd and 4th graders at its Peosta Elementary site.
Each year, the Iowa Afterschool Alliance and the Iowa Department of Education honor individuals or organizations that believe strongly in the importance of afterschool programs and are willing to provide tangible support to the issue as well as outstanding students who demonstrate the positive effects of afterschool programs. Awards are awarded to the programs that most exemplify quality programming in that area.