Lauren Trumm, ARNP, has joined Grand River Medical Group (GRMG) in the pulmonary medicine department, caring for patients with lung problems. Lauren will be partnering with Dr. Braden Powers to bring increased access to our patients with pulmonary conditions such as COPD, asthma, and other lung concerns. Lauren grew up in Mediapolis, IA. She received her Bachelor of Science in Nursing degree from Iowa Wesleyan College. Lauren completed Graduate school at the University of Iowa, receiving a Master of Science in Nursing degree in the Family Nurse Practitioner program.
After completing her education, Lauren worked as a Nurse Practitioner in the pulmonary and critical care department at UnityPoint Health's St. Luke's Methodist Hospital. Upon relocating to Minnesota, Lauren joined a large pulmonary and sleep medicine practice in the Twin Cities where she practiced for five years prior to returning to Iowa.
She is currently accepting new patients.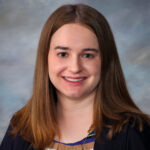 Dr. Katie Voss joins GRMG from Indianapolis where she completed her pediatric residency at the Indiana University School of Medicine. Dr. Voss is a Wisconsin native, growing up in Appleton. She then went on to receive her Bachelor of Science degree from the University of Notre Dame before returning back to Wisconsin to complete her medical degree at the Medical College of Wisconsin in Milwaukee.

Dr. Voss will be practicing at GRMG's Pediatric Clinic located within the Delhi Medical Center – 1500 Delhi St., Suite 3500. She will be caring for patients from birth to adolescence.
She enjoys spending time outdoors hiking and exploring as well as playing board games and trivia with her husband. She is an avid football fan and spends her fall weekends cheering on the Green Bay Packers and Fighting Irish. In her spare time, she also enjoys musicals, trying out new recipes and reading mystery novels.
Dr. Voss is excited to begin building new relationships with her patients and their families. She is now accepting and seeing new patients.