Young Professionals Dubuque (YPD) is a leadership program with a focus on personal and professional growth. They are affiliated under the Dubuque Area Chamber of Commerce and exists to connect young professionals with each other, the business community, and the city in which we live, work, play, and do business. YPD members gain access to the nation's largest talent network of its kind, connect to the Dubuque Tri-States Region as a place to live well, work smart, play hard, and have an immediate impact.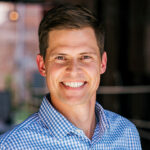 The two new Board members are Brock Renbarger and Wes Hartig.
Brock is involved with YP Diversity Focus. He is Second Vice President, Commercial Banking, MidWestOne Bank. He enjoys Spending time with his wife, Allison, and the newest addition to the family, little man Crawford.
He and his wife enjoy doing projects around the house and working on the yard. When not getting sweaty around the house, he loves to socialize with family/friends/new faces, going to one of Dubuque's excellent restaurants, or attending an event around town.

Wes Hartig will be concentrating on YP Member Relations. He is CEO at MedOne and enjoys being out and about with his wife, Allie, and their two kids, Nora and James. We love to go for walks, play at nearby parks (Bryant School has been their go-to), and spending time with family and friends.
Upcoming YP Luncheon presentations:
October 21 – Senator Joni Ernst
November 18 – TBA
December 16 – Cris Houlihan, Vice President, Transportation Group, Cottingham & Butle