So, what exactly is a wine club? When signing up for a wine club, you are signing up for a membership. Within that membership you are committing to, depending on the winery, a selection of wines that come to you throughout the year.
Wine clubs are a great way to discover fresh favorites as you introduce your palate to new wines you may never have heard of or had the opportunity to taste. The overall concept of most wine clubs is simplicity. Let the winery do the work for you! Enjoy preselected wines, often times chosen by the winemakers, from club offerings of your choice at preferred pricing, in addition to many other benefits.
Club exclusive pick-up parties, private events, discounts on wine and gift purchases and complimentary wine tastings are few of the many benefits that may be offered within a wine club membership. The best part? There is no fee to join! Wineries may ask for a yearlong commitment so that you are able to enjoy the full scope of what that winery has to offer.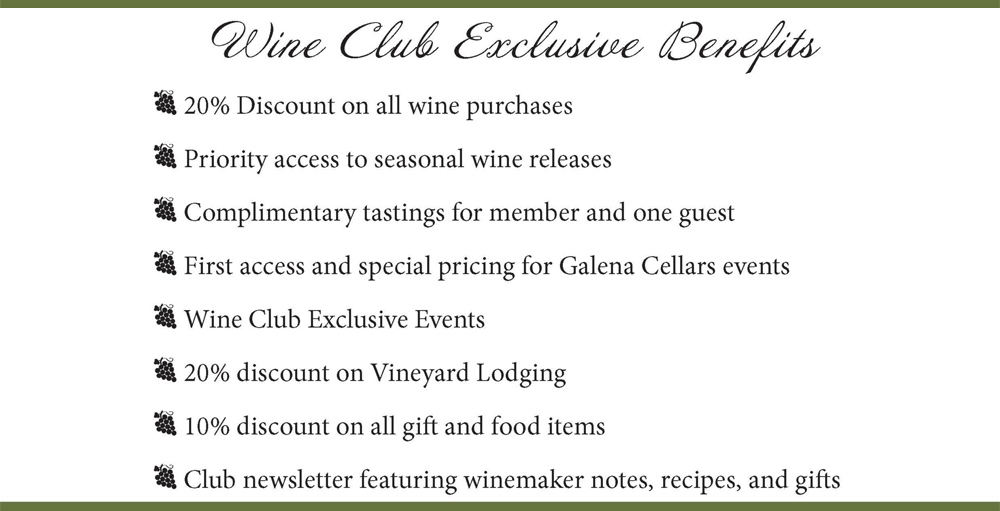 For those interested in introducing themselves to new, locally produced wines in the Midwest with a twist of convenience, value and ease delivered right to your front door, need not look any further than Galena Cellars Winery.

A small family winery founded in the early 1980's by the Lawlor Family in Galena, Illinois has since grown to produce over 50 varieties of red, white and fruit wines. To further share the Galena Cellars experience, the family extends a special offering of wines produced from locally sourced fruit to both locals and visitors from across the United States "a taste of Illinois" from their three tasting rooms.
Years ago, the Galena Cellars Wine Club started off small, getting its feet wet with the concept of a wine club, not often heard of around small towns in the Midwest. After years of persistence and practice, a new face entered the picture and Galena Cellars' club has since taken off running.
Hailing from the West Coast, Oniqueh Giles received her bachelor's degree in Communications at Pacific Union College in the heart of the Napa Valley. Along the way she gained a passion for wine and pursued it as her career, working from tasting room associate to wine club manager. After gaining almost 10 years of work experience while working at many renowned wineries on the West Coast, she picked up her roots and relocated to the Midwest.
Shortly after arriving at Galena Cellars, Oniqueh completely revamped and relaunched their wine club growing its membership exponentially within the first year. After being a member of many wine clubs, as well as helping run various styles of clubs, she was able to combine her previous experience to build the new Galena Cellars wine club.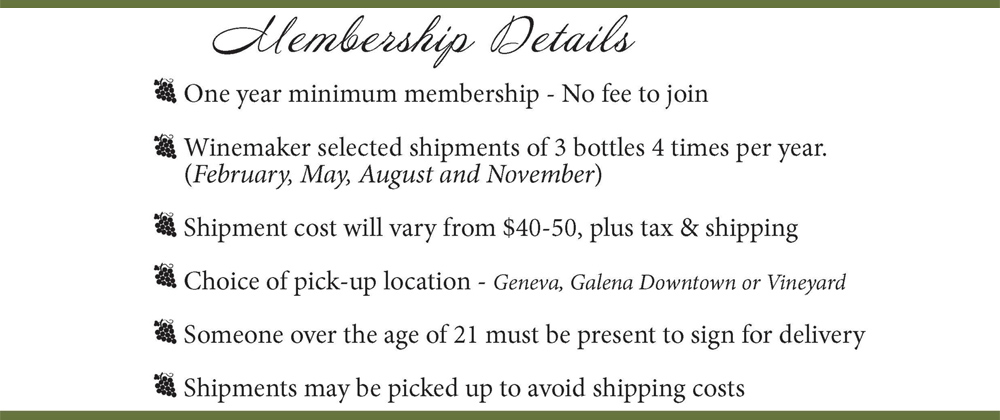 When asked what her objectives for the Galena Cellars Wine Club entailed, Oniqueh shares "The main goal in creating our new club was to share over 50 unique wines with members and provide deeper insight into the work that goes into growing and producing each individual wine." She continues, "We are continually working on ways to make being a member fun and exciting. Ensuring that members know how much we value their loyalty is very important to us."
As Galena Cellars' wine club continues to grow, so does the passion for growing and introducing the Midwest wine industry to locals and visitors alike. There are numerous wineries in the Midwest who offer great wine club options, all with great benefits, varying wine selections and innovative experiences. So, here is your chance, next time you visit one of your favorite local wineries, add a little variety to your life and join a wine club!
Interested in learning more about Galena Cellars' wine club? Visit galenacellars.com for more details.