Since her first visit to Dubuque on the heels of Hurricane Katrina in 2005, Doreen Ketchens has traveled the world performing joyful, energetic, original, and soulful music in 47 states, 24 countries, and counting. She and her family have established a stellar reputation with millions of fans around the globe, as well as online fame with over 85 million views and viral videos. Jazz New Orleans brings the best of New Orleans to the stage; combining clarinet, guitar, vocals, drums, and piano, this quartet's primary interest lies in spreading the culture and traditional music of New Orleans all over the world through education and outreach.
"University of Dubuque Heritage Center is ecstatic to partner with the Dubuque Arts Council on this presentation of Doreen's Jazz New Orleans," Tom Robbins, Heritage Center Executive Director, special assistant to the President said. "Her artistry and command of the clarinet is beyond inspirational. We can only thank our lucky stars that we are able to present Doreen and her band on Fat Tuesday of all days – it will be a true Mardi Gras celebration live on stage!"
The UD Concert Band, conducted by Nolan Hauta, DMA, director of concert bands and assistant professor of instrumental music, and the UD Jazz Band, conducted by Evan Glickman, DMA, director of jazz and athletic bands and assistant professor of music, will open the show before Doreen's Jazz New Orleans takes the stage.
In 2021, the Dubuque Arts Council celebrated their 50th anniversary. Today, the organization continues to bring world-class performances for local school students in hopes of inspiring, educating, and improving quality of life.

"Doreen is back by popular demand," Dave Grable, Dubuque Arts Council Board Member said. "We could not be more excited about Doreen's commitment to return to Dubuque. Her world-class status as a performer, combined with her super-star celebrity, makes her time with students one of the hottest tickets in 2023."
We had the pleasure of sitting down with Doreen to learn about her journey through music, the loves of her life, exactly why she is successful at engaging students, and what to expect on Fat Tuesday.
Question: How did you get your start in music?
Doreen Ketchens: I was 11 and at that time in my life, I thought my dad "the big king" could do anything. So, when he got me a clarinet, I figured he'd teach me to play it. We tried and of course, he couldn't teach me. But when I got to school, I studied and learned it there, and I got pretty good. I played at the Blue Room at the Fairmont Hotel while I was in 6th grade. We got dressed up, rehearsed at school, then went straight to the concert and people loved our performance. When I experienced the audience's reaction, I was hooked!
Question: People call you "Ms. New Orleans," "The female Louis Armstrong," an "Ambassador to New Orleans," and a lot more. What do you like to be called?
Around the world they call me all kinds of stuff, but on May 26 of last year, I received an honorary doctorate from Five Towns College in New York. "Dr. Doreen Ketchens," I love it. And it's especially meaningful because Five Towns College's music program is among the oldest in the United States.
Question: The students love you. You're funny, kind, and a world-class performer. Can you please share an example of your life experience from which students can learn?
DK: I love the fact that the kids are into me because I remember being in church as a little kid being bored out of my head. I recall later in life, our Pastor saying, "You've got to keep the youth in your congregation, because that means we have a future." Just the fact that the students are into what I am doing lets me know that there's a future for music and performances. For me, it wasn't very easy to learn because the new book in junior high was boring. So, I try to keep it exciting,  interactive and interesting.
Question: The last time you were here in Dubuque it was right after Katrina. What's changed since then (other than appearing on Jimmy Kimmel Live!)?
DK: We've appeared on CBS Sunday Morning, been on a lot of tours with the State Department and went on to make a name for ourselves. We went back to NOLA and started rebuilding and putting ourselves back together. There was no infrastructure at home, so we toured in and out of the country and people started taking notice and liking what we did. We've been in movies, Dorian played with Beyoncé (in the Lemonade video "Don't Hurt Yourself") and wonderful things continue to happen.
Question: What can we expect at the Mardi Gras show?
DK: Our performances are not like you're just going to come, listen, and that's it. We bring the audience into the show to make it a memorable experience. What's really special for me: Iowa is one of the most wonderful places on Earth. I was kind of shell-shocked after Katrina, but when I got off the plane in Dubuque, I saw people living normal lives and it was such a contrast to the chaos we had just left in New Orleans. We stayed for 2 weeks and it was a wonderful way to detox and de-stress.
Doreen's Jazz New Orleans performance at University of Dubuque Heritage Center is in cooperation with Dubuque Arts Council performances for students in grades 4-8, workshops for high school students, and master classes for college students. It's an action-packed week of inspiring musical experience from a world-class performer combined with some good, old-fashioned fun. The artists' appearances, curriculum and performances are made possible in part by funding from Humanities Iowa and support from the William P. Woodward Visiting Artist-in-Residence Endowment.
Doreen's Jazz brings the best of New Orleans to every performance. They have successfully created their own style that blends classical training with the soul of gospel and jazz. They have recorded 31CD's & three DVD's displaying the culture of New Orleans around the world.
For more than 50 years, the Dubuque Arts Council has been bringing arts and education to tri-state students. For more information and to make a contribution, visit DubuqueArtsCouncil.com. This program is funded in part by a grant from Humanities Iowa, the National Endowment for the Humanities and by the William P. Woodward Visiting Artist-in-Residence Endowment. .
Tickets for Doreen's Jazz New Orleans, with special guests UD Concert Band and UD Jazz Band, can be purchased from 11 AM–2 PM. Monday through Friday and 90 minutes prior to events at the Farber Box Office, Heritage Center, University of Dubuque, 2255 Bennett Street; by calling 563.585.SHOW; or by visiting DBQ.edu/HeritageCenter.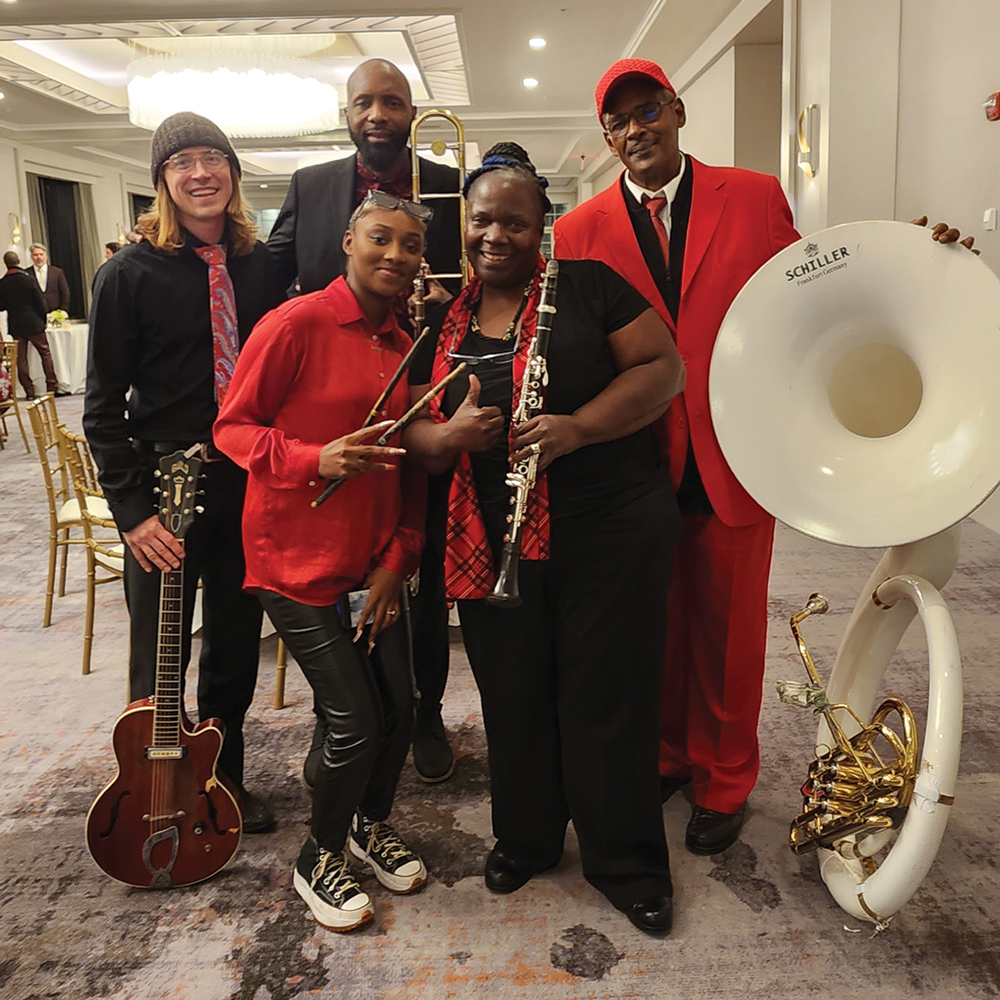 Doreen's Jazz New Orleans
Doreen's Jazz has represented the United States on several occasions by teaching and performing for dignitaries and royalty, including four US Presidents. Doreen's Jazz, and its representatives, can also be found in numerous publications, radio, and television shows, including CBS Sunday Morning, Jimmy Kimmel Live, Beyonce's Lemonade Video Album, Treme, on HBO plus music videos and movies, including New Orleans Tourism commercials, Tyler Perry's Temptation, Out of Blue and Come On, Come On, 2022.
Doreen performed in St. Louis Cathedral, with the Louisiana Philharmonic Orchestra in 2018, to a packed house, and received a standing ovation. Recently, Lawrence joined her to perform for former Mayor Landrieu's, hosting of the closing ceremonies of the New Orleans' 300 year celebration which included Clergy leaders from around the world. In August of 2022, Doreen and Lawrence were honored with a proclamation from the City Council and City of New Orleans.
The bands intense passion gets under your skin and brings you to a new place. Be it, Gospel, Blues, R&B, Classical or Jazz. Doreen's Jazz can rock the house on many levels and have the audience singing along, as if they are also performing on stage.