The most popular and sought-after big band of all time will perform at Five Flags Theater for one night only! On Wednesday, November 17, The World-Famous Glenn Miller Orchestra will perform their greatest hits including "In The Mood," "A String Of Pearls," "Pennsylvania 6-5000," Tuxedo Junction," "Chattanooga Choo Choo," and of course their theme song "Moonlight Serenade" in Dubuque as they continue their world tour.
Alton Glenn Miller was born in Clarinda, Iowa on March 1, 1904. But it was in North Platte, Nebraska. He toured with several orchestras and ended up in Los Angeles where he landed a spot in Ben Pollack's group, a band that included a guy named Benny Goodman. Here, Miller also got the chance to write some arrangements. Arriving in New York City, he soon sent for, and married his college sweetheart, Helen Burger in 1928, and for the next three years, earned his living as a free-lance trombonist and arranger.
Miller played and recorded with the likes of Tommy and Jimmy Dorsey (who on several of their records, featured an up-and-coming singer by the name of Bing Crosby), Gene Krupa, Eddie Condon and Coleman Hawkins. In addition, during that time, Glenn cut 18 sides for Goodman, and also worked for radio studio conductors like Victor Young, Carl Fenton and Jacques Renard. In 1934, Miller became the musical director of the Dorsey Band, and later went on to organize The Ray Noble Orchestra, which included such players as Charlie Spivak, Peewee Erwin, Bud Freeman, Johnny Mince, George Van Eps and Delmar Kaplan, among others.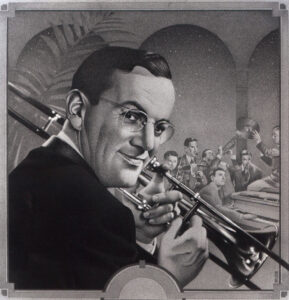 Glenn began recording under his own name for Columbia.  His instrumental 'Solo Hop' reached the Top 10. Thirty-one Top 10 hits were inducted in the Grammy Hall of Fame. In 1944 Glen took his band to Great Britain, performed for the troops and did radio broadcasts. On December 15th, Glenn Miller boarded a transport plane to Paris, never to be seen again.

The orchestra, their lead singers, and vocal group will perform their catalog of big band classics just the way they would have over 80 years ago when Glenn Miller stood in front of his band. It is a show that continues to transport audiences back in time and is as nostalgic as it is exciting. The Glenn Miller Orchestra will perform their timeless classics that made them famous the world over in a show that has moved audiences for generations.
The World-Famous Glenn Miller Orchestra has been an icon of the swing and big band sounds of the war era, entertaining audiences around the globe. Experience them in the elegance of the renovated Five Flags Theater.
This venue occupies a historic site, which has been a landmark for public entertainment since 1840. The original building at 4th and Main was reconstructed as the Majestic Theater in 1910 after a fire destroyed the original structure.
In the late 1960s, the theater was slated for demolition, but dodged the wrecking ball with the help of a group of dedicated Dubuque citizens who rallied to save the theater. Their action marked the beginning of the Dubuque Five Flags Center, a city block dedicated to enhancing the cultural experience of Dubuque.
Get your tickets now for this one-night-only event at FiveFlagsCenter.com! For more information about the orchestra, visit GlennMillerOrchestra.com.