Medical Associates is pleased to announce the arrival of Connor Golden, PA-C, to their Neurology Department. As a member of the Neurology team, Connor will treat health concerns involving the brain, spinal cord, nerves, and diseases of the muscles. He will work closely with Internal Medicine, General Surgery, Oncology, Orthopaedic Surgery, and Physical & Rehabilitative Medicine, to provide complete and coordinated care for patients.
Connor received his Masters of Science in Physician Assistant Studies degree from the University of Dubuque in December of 2020 and previously worked at MercyOne Medical Center in Dubuque in various patient care roles.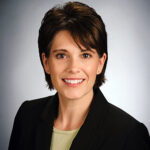 Medical Associates Clinic is also pleased to announce that Theresa Hughes, DPM, has been recertified with the American Board of Multiple Specialties in Podiatry. Podiatric professionals who earn certification from the American Board of Multiple Specialties in Podiatry (ABMSP) must meet rigorous standards based in real world practice. Board certification is voluntary and includes a rigorous exam that tests a physician's ability to diagnose and treat patients with a broad range of podiatric conditions. Maintenance of certification from the ABMSP requires the utmost professionalism in patient care and strict adherence to the ABMSP's code of professional practice.
Dr. Hughes has been with Medical Associates Clinic since December 2015. She provides medical and surgical care for a wide variety of diseases and disorders of the foot, including arthritis, bunions, calluses, diabetic foot management and limb preservation, flat feet, ganglions, hammertoes, heel pain, nail problems, and trauma.