University of Dubuque Heritage Center's compact Spring 2021 Live at Heritage Center Performing Arts Series, "More Than a Pipe Dream: A Socially Distanced Season," will restrict public performances to a virtual event delivery with paid livestream access via ticketed admission. In-person performances will only be available for UD faculty, staff, and students this season.
"Although our offerings this spring will be only virtual for the public, we are looking forward to having guest artists and our faculty, staff, and student audiences in the building again as well as the debut of our newest addition, Opus 97, our mighty Dobson pipe organ," said Tom Robbins, Heritage Center Executive Director.
He continued, "The energy our artists exude from the stage and the response they elicit from our audiences sometimes borders on euphoric. After a yearlong hiatus of live, onstage presentations, I expect these performances will be emotional for everyone. Although the performances will be socially distanced for campus audiences only, we will be in one room having a common artistic experience together once again, finally."
Robbins added, "We developed sort of a tagline for this very abbreviated season. It goes 'comedy, history, pipes, music, and more! What more could anyone ask for?' That pretty much sums up the season except for the official slogan, which reads 'More Than a Pipe Dream.' Ever since our performance venues were shuttered last March, it seemed like a dream – almost surreal – to be able to resume live events even if only in a limited fashion. The upside is our public audiences tuning in virtually will hear and witness the reaction of a live audience."

As for the shows themselves, Robbins said, "This season is a just a small capsule of what a normal season would represent, with just five hybrid performances compared to the 25 to 30 we've hosted the past few seasons. One performance will be streamed for free, while an additional performance will be offered only as a paid livestream event. This all said, the Heritage Center staff are ecstatic and elated to be able to do what we do best: roll out the red carpet with gracious hospitality, welcoming our guest artists and their most appreciative, captive audiences."
Robbins also emphasized Heritage Center's commitment to the wellbeing of students, faculty, performers, and the community, saying, "To ensure the highest degree of safety, all live onstage performances this spring will be 'campus only' events, meaning UD students, faculty, and staff with no admittance for other guests. Hosting 'campus only' events has been extremely rare for Live at Heritage Center over the years but is necessary this spring out of an abundance of caution."
The Spring 2021 Live at Heritage Center Performing Arts Series, "More Than a Pipe Dream: A Socially Distanced Season," features the following virtual opportunities:

Darryl Van Leer presents The Norm of Greatness: A Tribute to Dr. Martin Luther King Jr.
Monday, March 8 @ 7:30 PM
Darryl Van Leer delivers stunning dramatic recitations of Dr. King's essential writings and speeches. Based on the essential writings of Dr. King, The Norm of Greatness: A Tribute to Dr. Martin Luther King Jr. opens with narration describing the tribulations of the Montgomery bus boycott. Van Leer has been captivating audiences for more than 20 years with his one-man dramatizations that he writes, directs, and produces. He has performed at over 300 universities in the United States.

Comedian Tommy Ryman
Friday, March 12 @ 8 PM
This Minnesota-based comedian was a semifinalist on NBC's Last Comic Standing! His act is described as absurdist and clever, masked behind a likable and innocent demeanor often thought of as disturbingly adorable. Named Best of the Midwest at Gilda's Laugh Fest, Ryman was invited to be on Nickelodeon's NickMom Night Out and has a comedy special on Dry Bar Comedy. He has worked alongside comedians including Louie Anderson, Maria Bamford, Hannibal Buress, and Nick Swardson.

President Harry Truman: A Grandson's Portrait
Thursday, March 25 @ 7:30 PM
This is a one-hour play/lecture where President Truman's grandson Clifton Truman Daniel portrays his grandfather and himself, stepping in and out of character to create a portrait of his life and career from a family perspective. Source material includes President Truman's memoirs and letters as well as family stories and books by Clifton's late mother, Margaret Truman.

Dr. Charles Barland, Organ Recital
Tuesday, April 6 @ 7:30 PM
The debut of John and Alice Butler Hall's Dobson pipe organ, Opus 97, features University Organist and Professor of Music Charles Barland, DMA. The repertoire chosen highlights this extraordinary instrument's symphony of sound. The program showcases music from Charles Marie-Widor, J.S. Bach, American composers Billy Strayhorn and Dudley Buck, and more. Buck's "Variations on the Star-Spangled Banner" demonstrates the many colors of Opus 97. The program finale reveals the organ's full capacity with music by Alexandre Guilmant.
A free link will be posted at www.DBQ.edu/HeritageCenter.

Landscape of Guitar: The Animated Painting Concert Experience Featuring Patchouli and Terra Guitarra
Thursday, April 22 @ 7:30 PM
This No. 1 charting international guitar duo creates a breathtaking fusion of world-class music and art. Performing fiery Spanish guitar pieces like "Malaguena" to the gorgeous vocal harmonies of "Sounds of Silence" this duo takes the art of guitars to another dimension with their new animated painting concert experience.
A gallery exhibit of related artwork will be displayed in conjunction with this event from Monday, April 19 through Thursday, April 22. The gallery exhibit will be open to the public.

Mutts Gone Nuts: A Canine Cabaret
Saturday, April 24 @ 3 PM
This comedy dog thrill show features high-flying Frisbee and tight wire tricks, dancing, magic, and more. Expect the unexpected as canines and comedy collide in a smash hit performance. From shelters to showbiz, these amazing mutts unleash havoc and hilarity in a breathtaking comedy dog spectacular, featuring some of the world's most talented four-legged performers.

A Livestream Subscription bundle of $49 is available for all five paid livestreams this season – a 25% discount. Where admission applies, tickets increase by $5 day of show.
Livestream tickets are available 10 AM to 5 PM Monday through Friday at the Farber Box Office, Heritage Center, University of Dubuque, 2255 Bennet Street; by phone at (563) 585-SHOW; or online at www.DBQ.edu/HeritageCenter. Paid livestream events include 48 hours of "on demand" access following the performances.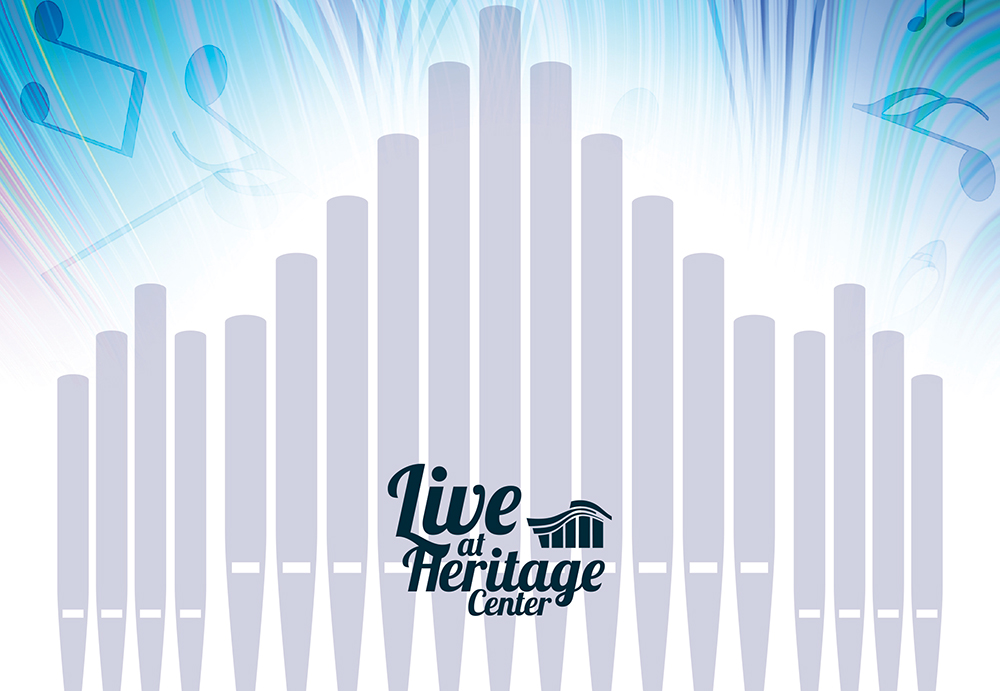 Heritage Center's mission is to inspire a lifelong appreciation of live arts experiences and ignite a passion for participation in the arts among young people. The Heritage Center is central to the University of Dubuque campus, providing a multitude of venues to serve students, faculty, staff, and the public. Art by Osmosis is the overarching theme of the building, inviting people of all walks to happen upon Art in its myriad forms, intentionally and accidentally, as they visit the center for their work, study, recreation, and entertainment. Learn more and purchase tickets at www.DBQ.edu/HeritageCenter.