by John Moran
William Intriligator, Music Director and Conductor for the Dubuque Symphony Orchestra, has been working diligently to ensure patrons of the DSO that the show will go on.
"We had this concert season all planned and wrapped up months ago and then the pandemic hit, and we had to change it. We've surveyed our audiences and subscribers and explored some different options… Chamber music, chamber orchestra, performing outside, or in other venues, but we decided to continue performing at Five Flags Theater and do social distancing… That would mean social distancing for the audience and the orchestra."
With a relatively small stage at Five Flags Theater, a smaller orchestra was needed. "We are starting with 12 to 14 players. With each concert we might add a few more musicians, but we will never get huge and when we finish in June, we might be up to maybe 35 members or something like that. That sounds like a lot of players, but we typically have 55 tenured members in our orchestra, [which is] kind of small… a major orchestra would have over 100.

"It's also been an opportunity to reprogram with a repertoire that is a bit more inclusive and speaks to some of the things going on in our country concerning racial justice," said Intriligator. "… [Music] by African American composers will be featured at every concert. We are really excited about that… our orchestra members are feeling very strongly about it as well."
The DSO will also be cutting down from their traditional five classics concerts to four because of their late starting date. The classics will start in February and be performed in March, April, and June. Intriligator explains, "We will start with the December Holiday Concert." A big change: there will be no singing at the Holiday Concert due to COVID. "But we will have members of the Heartland Ballet, and the concert will be featuring just the brass and percussion members of the orchestra," said Intriligator. "That will be a very festive and wonderful, Christmas kind of sound."
Another change: accommodations for the audiences. "The concerts will be shorter with no intermission. We will be controlling traffic flow and possibly using different entrance/exit doors. Because of social distancing, we can't sell the normal 711 seats that we have at Five Flags Theater… we are looking at 190 to 195 seats." A third performance will be added to each of the concerts so more patrons will be able to attend the concerts.
"We've really struggled with what to do with the hugely popular rock and country concerts, which take place at the Moonbar. The Moonbar is such a great venue and Diamond Jo is such a great partner we can't imagine doing those in another space, but we can't [perform] in such close quarters. The stage is too small." For now the rock show is tentatively planned for May 14 and 15 and the country show has been temporarily cancelled. The concert at the Dubuque Arboretum is now scheduled for June 27.
Please visit the DSO website at DubuqueSymphony.org for updates and ticket information.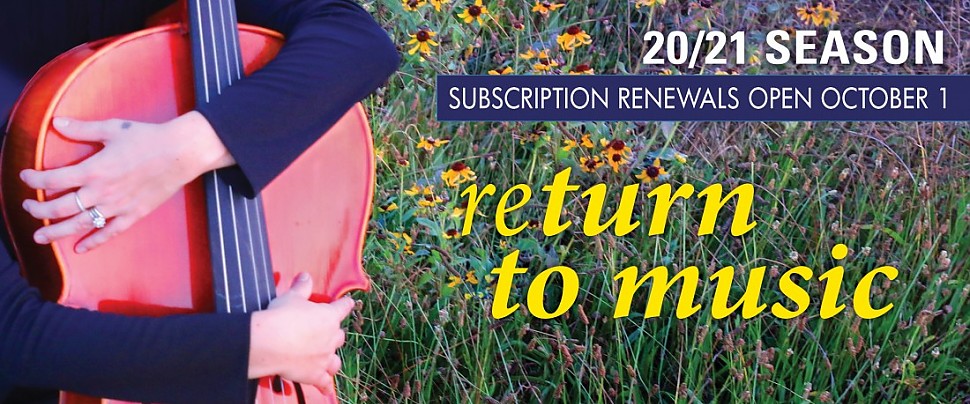 Dubuque Symphony Orchestra 2021 Season Preview
Dubuque Symphony Orchestra Return to Music
The Dubuque Symphony Orchestra (DSO) will perform concerts at the Five Flags Theater. William Intriligator, music director and conductor, has prepared a rich array of music for the Classics Series and Holiday Concerts, including:
DSO Live From Our Livingroom
Oct. 9 Ongoing @ 7 PM
FaceBook Concert every other Friday featuring a member or two from the DSO will perform live on Facebook.
Holiday Concerts
December 5 @ 2 PM & 7:30 PM
December 6 @ 2 PM @ Five Flags Theater
The DSO spirit shines bright in their holiday concerts! Their brass and percussion sections are featured in a festive mix of seasonal and classical favorites that are sure to lift your spirits!
Classics 1 Concert
February 20 @ 2 PM & 7:30 PM
February 21 @ 2 PM – Five Flags Theater
Florence Price's Five Folksongs in Counterpoint frames African-American spirituals within a traditional European classical music form to reflect the melting pot of cultures in America in her time.
Contemporary composer Jessie Montgomery's compositions focus on the vernacular, improvisation, language, and social justice. A Washington Post critic called her piece Strumna "turbulent, wildly colorful, and exploding with life when it sounded like a handful of American folk melodies tossed into a strong wind, cascading and tumbling joyfully around one another."
Also featured: Maestro Intriligator and former DSO Concertmaster Caroline Curtis in a Vivaldi Concerto for Oboe and Violin; and works by Bach and Mozart.
Classic 2 Concert
March 20, 2021 @ 2 PM & 7:30 PM
March 21, 2021 @2 PM – Five Flags Theater
George Theophilus Walker is the first African American to have won the Pulitzer Prize for Music. His Lyric for Strings became one of the most frequently performed pieces by a living American composer.
The DSO Concertmaster Eleanor Bartsch, Associate Concertmaster Peter Miliczky, and Acting Principal Cello Jon Hodges are featured in a gorgeous concerto by Corelli.
Also featured: Copland's Appalachian Spring and Albioni's Adagio in G Minor.
Classic 3 Concert
April 10, 2021 @ 2 PM & 7:30 PM
April 11, 2021 @ 2 PM- Five Flags Theater
Scott Joplin, American composer and pianist, was the foremost composer of ragtime compositions. Heartland Marimba Quartet is featured in a medley of favorites.
We also feature the first symphony of Joseph Bologne, Chevalier de Saint-Georges: classical composer, virtuoso violinist, and conductor of the leading symphony orchestra in Paris.
Also featured: Heartland Marimba Quartet in Gottschalk's spirited Grande Tarantelle. Schubert's Fifth Symphony, a rarely heard gem, finishes the program with unique tenderness and beauty.
Classics 4 Concert
June 5, 2021 @ 2 PM & 7:30 PM
June 6, 2021 @ 2 PM – Five Flags Theater
Coleridge-Taylor Novelette, Opus 52 No. 4
William Grant Still Serenade
Hummel Trumpet Concerto in E-flat, featuring Wes Skidgel on trumpet
Mozart Symphony No. 41
Mozart's final symphony, a masterpiece of style and counterpoint, is the cornerstone of these concerts. DSO Principal Trumpet Wes Skidgel is featured in a beautiful trumpet concerto by Hummel.
For more information on all their concert dates, visit DubuqueSymphony.org.

This featured article was published online in its entirety thanks to Premier Bank. Help support the arts by visiting PremierBanking.bank.