UPDATE (5/13/20): The City of Dubuque's Arts & Cultural Affairs Commission has produced a special message from Dubuque's Arts and Cultural Community during the COVID-19 crisis. See this video PSA below.

Bell Tower Theater
by Sue Riedel and Miki Robinson
The Bell Tower Theater, a nonprofit community theater located in the West End of historic Dubuque, IA, is celebrating its 18th Anniversary Season in 2020.

All of us at the Bell Tower Theater express our sincerest wish that everyone is safe and healthy during this trying time. We are so looking forward to the day that we will be able to open our doors again. In our 17-year history, the theater has never been this quiet. We miss our actors and technicians, we miss the sound of children singing, and we miss our audiences with their laughter and applause filling the theater. Each year we present a series of plays and musicals, all comedies, and we are anxious to do that again soon. The set is built for Exit Laughing and our performers are learning their lines, so we are ready to come back as soon as possible. We are also reading plays and musicals in preparation for our 2021 season.
Our youth programs are also a very important part of our mission. Each year, we touch the lives of more than 1000 kids with our Kids Take the Stage classes and the two musicals in our Free Summer Musical Program. These activities teach theater skills such as acting, singing, pantomime, improvisation, and stage make-up but equally important, they help kids develop real life skills like confidence, reading, teamwork, accountability, self-esteem, and communication. Our Free Summer Musical Program, High School Show has been cancelled for this summer, but we hope that the Free Summer Musical Program youth musical Annie will be able to go on as scheduled, and we will be extending the eligible age to include all high school students. Anyone ages 7 to 18 will be allowed to audition for Annie.
Kids take the Stage classes had to be cancelled for the spring, but our teachers are working on developing exciting new classes for later in 2020. Each year, we offer a six-week winter session starting in January/February, a six-week spring session starting in March/April, a six-week fall session beginning in October, and week-long summer camps in August. We hope to resume this schedule as soon as possible.
We are so proud to be a part of our community's vibrant cultural landscape and when it is safe for us to all get out into the world again, we will be there. We will make you laugh with comedies like Exit Laughing and A Doublewide, Texas Christmas and special guests like GIT Improv.
We will help kids find their voices and build their self-confidence with our award-winning youth classes and shows, and we will be a place that our community can come together and experience the joy of live theater. So just consider this an extra-long intermission but as all good thespians know, "The Show Must Go On!" We hope to be back soon to educate, entertain, and inspire – but most importantly, to make you laugh!
Our box office is still open and can be reached by phone at (563) 588-3377. We appreciate your purchasing tickets to future events, buying gift certificates and making tax-deductible donations. All tickets and gift certificates can be purchased and donations made at tickets.belltowertheater.net.
The Grand Opera House
by Frank McClain
The Grand's mission statement: "To preserve and enhance The Grand Opera House as a venue for theatrical performance, dance, music, and film; to provide quality performing arts education; and to inspire the Dubuque community though excellence in the arts."
As a community theater, we take great pride in our locally produced programming. Annually, we present a season of 10-12 productions and special events. We have a big stage and a big house, 620 seats, a small staff, and an army of amazing volunteer performers, technicians, ushers, and concession workers.
We present year-round programming. Our season begins each fall with a play or musical. In October, we transform four floors of our facility into a haunted theater experience called Terror at the Grand. We then present a holiday-themed play, followed by our annual presentation of Dubuque City Youth Ballet's production of The Nutcracker. During Christmas week, we present an intimate play with more mature themes. In February we present another play or musical, whichever we didn't do in the fall slot. March brings dance with a performance by Heartland Ballet, the pre-professional wing of Dubuque City Youth Ballet. During the summer, we produce two large-scale musicals and a free youth musical. Our artistic teams: directors, musical directors, choreographers, as well as set, costume, props and lighting designers are all paid professionals to assure quality productions. Our musicals are performed with live professional orchestras.
The world we live in is vastly different than the world that saw the birth of this theater in 1890. Through many incarnations the Grand has been a show palace that hosted the greatest entertainers of a bygone era, a movie house during the Golden Age of Hollywood, to the thriving Community Theater we are now. Recognized on the National Register of Historic Places, the Grand Opera House has served the community of Dubuque for 130 years, providing quality, affordable entertainment to the tri-state area, and a home for area artists to explore, create, showcase, and develop their talents. Annually, we host over 30,000 patrons and visitors.
As 21st century audiences enjoy the beautiful theater, it is a living tribute to the heritage and traditions of past generations of actors, musicians, choreographers, costumers, stagehands, set designers, managers, and the visionary leaders who built the Opera House.
The Grand's mission has three essential words: preserve, enhance, and inspire. This is what we do!
Ohnward Fine Arts Center
by Rich Hall
As a nonprofit fine arts organization, our mission is to ignite the imagination, stimulate thought, offer an avenue of creative expression, and provide entertainment. We seek to enrich our patrons' lives by providing a center for education, social interaction, and community development. We hope to communicate and develop an appreciation for the arts and a greater understanding of our heritage and culture through a diversity of programs designed to benefit our community.
The Ohnward Fine Arts Center (OFAC), opening in December 2004, is a 29,800-square-foot facility made possible through private donations, grants, and countless volunteer hours. The facility is not just a building but also a symbol of the spirit and generosity of people who care. Because of all the volunteers used, this building cost just under $1 million and was paid off in December 2009.
Special thanks goes to John Fagerland and Edward Tubbs for generously contributing the matching funds required for the Vision Iowa Grant, thus acquiring naming rights to the facility.
The facility houses the following: The Drew Art Gallery – named for Gary and Marilyn Drew who were the driving force for the completion of the center; The Kopel Theater, a state-of-the-art facility that offers a 2,450-square-foot stage in an auditorium that seats 841; the theater also includes a 12,000-watt, 40-channel sound system and computer controlled lighting. The theater was named after Dr. James and Harlene Kopel who shared in the Drew's vision and contributed a large donation toward the construction.
The Drew Art Gallery provides a 3,600-square-foot gallery for exhibitions of original artwork, doubling as a spacious venue for banquets, receptions, and more.
The OFAC is located just 30 miles from Dubuque and 35 from the Quad Cities.
The completion of Maquoketa's Ohnward Fine Arts Center was hailed by Davenport TV newscaster Fran Riley as "the most inspirational story" he had seen in his twenty years at the station. Despite the absence of any facility specifically intended for music or theatre productions in all of Jackson County, several attempts to fund the construction of an auditorium had only met with failure and frustration. Following the last bond issue defeat, local "spark plug" Gary Drew, announced his intention to build an auditorium in Maquoketa using volunteer labor. Skeptics immediately cast doubt on Mr. Drew's sanity and the project was ridiculed as an "impossible dream." Nearly 14 years after the idea was conceived, thanks to numerous grants and gifts, an incalculable amount of donated labor and materials, and a tremendous dose of "never-say-die" attitude from Gary Drew, the auditorium has become a reality.
Hopefully, coming on Sunday, May 17 is Absolutely Country, Definitely Gospel.
Absolutely Country, Definitely Gospel is a glorious journey through some of country and gospel music's best, presented with that irresistible country sound! Join Faith's journey as they share beloved gospel music and country songs like "He Touched Me" and "Coat of Many Colors," sending your spirits soaring and warming your heart and soul.
Rising Star Theatre Company
by Nicholas Halder
Everyone at Rising Star Theatre Company hopes that you and your family are safe and healthy during these uncertain times.
The RSTC Board of Directors has made the difficult decision to postpone our productions of Grease and The 25th Annual Putnam County Spelling Bee as part of our 2020 summer. The health and safety of our patrons, participants, and company as a whole was the Board's top priority. We are currently finalizing the details in producing these musicals in June and July 2021, respectively.
The Board and staff members are currently exploring alternative opportunities in lieu of the two postponed productions. We will announce those opportunities once they have been finalized, as well as when the group gathering recommendations suggest it would be safe for them to take place.
At this time, the Board is waiting until the end of May to make a final decision about our youth production, Willy Wonka. We will continue to monitor and evaluate the changing nature of this situation as we come to a final decision. It is our hope that auditions can take place in mid-June, rehearsals beginning as they usually do at the end of June and performances August 6-9, 2020.
We appreciate your understanding and support for RSTC during this difficult time. Updates will be made through our website and social media platforms. Please feel free to reach out to info@risingstartheatrecompany.com with any questions that you may have. Until we see you next, keep reaching for the stars!
Live at Heritage Center
by Thomas J. Robbins, Executive Director, Heritage Center
Heritage Center and the live performance industry are all about communal experiences, witnessing artistry in real-time with friends and neighbors surrounding us, shoulder to shoulder, in the same room with the art and each other. Live arts are something we are intentional about doing together for the health and nourishment of our intellects, souls, and emotional well-being. The COVID-19 pandemic has put live performances in a theater full of warm hearts and inquiring minds on hold. Please know all of our patrons remain in our thoughts and prayers during this difficult time.
Little did we know that the Golden Dragon Acrobats on February 29 would mark our final presentation of the 2019-2020 Live at Heritage Center Performing Arts Series. We had a near full-house, and the audience was nothing short of fully captivated by the performance – a fitting close to the 2019-2020 Jewel of a Season.
We were disappointed to have to postpone our B.I.T.E. Sized Series Babka Theatre presentations in March and April. Our hope is to reschedule as many of these performances as possible, but it may take some time to determine when those performances may occur. We will be in touch with all ticket holders once it is determined that we are able to reschedule. If postponement of an event becomes impossible, please rest assured that refunds will be offered. Thank you for your patience in the meantime.
We are excited to announce the 2020-2021 Live at Heritage Center SchoolBus Performance Series. The season will again include programs connected to STEAM – science, technology, engineering, art, and mathematics.
The season will kick off Monday, November 30, 2020, and run through Friday, May 14, 2021. It will include 11 programs that feature nationally touring professional guest artists. Performances were selected to complement classroom curriculum with creative and imaginative learning, critical-thinking opportunities, and live performance experiences. Study guides are available to integrate performance topics into classroom activities.
Launched in 2014, SchoolBus is an annual daytime field trip program for public, private, homeschool, and accredited preschool and daycare groups with students ages four and older.
The performances will be held in John and Alice Butler Hall or Babka Theatre in Heritage Center, with bus access and parking. Most performances are approximately one hour and include a question-and-answer period.
We eagerly anticipate the opportunity when we can all gather together once again for the magic that happens during live, in-person performances in Heritage Center. We are working hard behind the scenes, assembling a fantastic 2020-2021 Live at Heritage Center Performing Arts Series season as well as preparing for the unveiling of Opus 97, the new custom-built 3,000 plus pipe organ that will grace John and Alice Butler Hall beginning with Christmas at Heritage 2020. We have so much to look forward to and are blessed to have all of you as our patrons and friends. Take good care of each other and keep an eye out for our new season announcement coming this summer.
The Dubuque County Historical Society
Mississippi River Museum
by Wendy Scardino
COVID-19 has changed our world in ways most of us were too naive to even consider. It has challenged our social norms and forced us to reevaluate areas of our lives we may have taken for granted – our families, our jobs, and our health.
While keeping us apart, this pandemic has also managed to bring us together in unexpected ways. Family time is in vogue once more. Social distancing is helping us reconnect with nature. And the multitude of stories embracing hope and kindness are being spread throughout the world across social media and our televisions.
The Dubuque County Historical Society has been dedicated to inspiring citizens for 70 years. When the decision to close our doors due to COVID-19 was made on March 16, staff immediately turned their attention toward the areas most essential to our operations. Animals still needed to be fed and cared for; filtration systems needed to be maintained and in working order; temporary exhibits de-installed; events cancelled, postponed, or reimagined digitally – all while ensuring the security, safety, and future work of the staff. But throughout it all, we also recognized the essential need to communicate and share our mission with the community and beyond.
In the last month, staff have worked daily to take our mission outside our walls, bringing the core of our mission – inspiring stewardship – to the public inside their homes. Most importantly, we have learned to pivot hard to what might be considered innovative ways of interacting with our visitors.
Since March 17, 14 educational, historical, and animal videos have been produced, while a new Mathias Ham Historic Site blog was launched. Two new live webcams were set up with views of the Mississippi River and the River Museum's otter habitat. A virtual tour was added to our website, and a new social media push referred to as #HomeMuseumCollections was created to source unique artifacts and their stories residing in our own homes. A "We're With You" postcard initiative was mailed to friends of the institution to embrace our long-time supporters from a distance, in addition to thousands of personal phone calls simply to see how people are coping. And in honor of the 50th Anniversary of Earth Day, staff have moved celebration plans to various social media platforms.
It is our intent that the 'innovative' work happening now can resonate long after we reopen our doors. Staff are already working to prepare for what reopening may look like, what new measures will be put in place to ensure staff and guest safety, and how we can remove barriers to accessibility for families experiencing layoffs, furloughs, and pay cuts.
When the nation reopens, we know cultural organizations like ours will serve a vital role in bringing life slowly back to a new normal and helping people reconnect. We look forward to being part of that recovery and welcoming the community through our doors once again.
To access the resources mentioned in this article, visit RiverMuseum.com.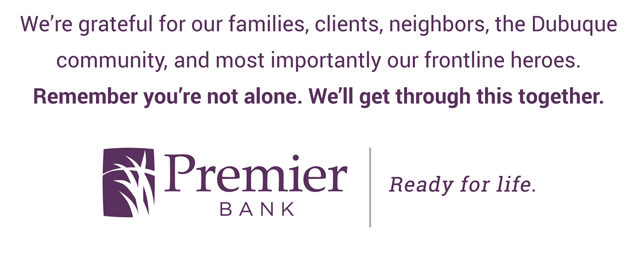 DuMA Online & Engagement Programs
Due to the COVID-19 pandemic, we at the Dubuque Museum of Art have had to make some adjustments. But you will still be able to enjoy art in a variety of ways. Listed below are a few of our series, tours, and projects to keep you entertained.
Video Series
Art Adventures Online: A kid & family friendly video series featuring fun and imaginative art projects to do at home taught by Educational Fellow Caitlin Donald, posted on YouTube and Facebook on Tuesdays and Thursdays.
Let's Talk About Art – The Dubuque Museum of Art Collection Video Series: Narrated by Exhibitions and Collections Fellow Sara Cullers, this video series offers additional insight into the museum's collection and is posted on YouTube & Facebook on Wednesdays.
Virtual Tours
Permanent Collections Image Gallery: 35 works of art from the Dubuque Museum of Art's permanent collection are currently being featured on the DuMA website.
K-8 Student Art Exhibition Image Gallery: Artwork from Dubuque Community elementary and middle schools and Holy Family elementary schools is available to view as an album on the DuMA Facebook profile.
Look for additional virtual tours to be added soon!
DuMA Engagement Projects
DBQ Together Through Color: Color records the physical characteristics of an object. Color can also express a particular mood or state of mind. DuMA is lighting up the exterior of the museum in a specific color of light each week to show that we are all in this together. We invite you to light up your home, work, or online as well. The color of the week is posted on the DuMA Facebook profile on Mondays. Post an image of your lights on our FB profile using the hashtag #allinthistogetherdubuque.
Show Us Your Chalk Art DBQ: Citywide colorful chalk drawings and uplifting messages of hope and encouragement are brightening these uncertain days. We invite you to post to our FB profile your favorites, using the hashtag #dumasunshine. We'd love to see work by people of all ages!
Reoccurring Themed Social Media Posts
Mondays: Artists & Their Animals – Notable artists were inspired by their animal companions and they often contributed to their body of work.
Fridays: Misplaced by History: Artists Worth Knowing – Featuring talented artists from the past that you may not have heard of before, but you will be glad you did!
Saturdays: What's Cooking? – Sharing favorite recipes from famous artists.
DuMA ENews: Every Friday we recap the highlights of the online content that we have artfully curated for you during the week. Join the mailing list at info@dbqart.org or catch a copy posted to our Facebook profile.
Editor's note: This article was provided by the Dubuque Museum of Art.
Fly-By-Night Productions
Fly-By-Night Productions [FBNP] is a non-profit theatre company located in Dubuque, IA. Doug Donald and Lenore Howard co-founded the company, which has just finished its 37th season of productions. Lenore Howard serves as Artistic Director for the company, having followed founding Artistic Director, Doug Donald.
FBNP's mission is to engage, connect, and energize audiences and participant artists in theatre as a shared live experience through bold, broad repertoire that challenges, inspires, and entertains.
FBNP most often introduces plays that are new to, and haven't been produced in, our area in order to broaden the theatre experience for all. FBNP's performance space is the intimate venue of The Bijou Room at Five Flags Center. The season consists of three main productions as well as other special projects in collaboration with numerous city organizations. FBNP is a proud contributor to the cultural community of Dubuque.
Due to the COVID-19 crisis, Fly-By-Night Productions has canceled its June 2020 performance dates of Ten Chimneys and has postponed the play to our first production of our 38th Season in September 2020. We will honor our patron's Season Tickets for that production.
FBNP does not normally have programming during the summer as our season runs between September and early June; we are grateful we do not have the difficulties other organizations have had to
face in their scheduled programming. Our hearts go out to them as well as our offer of shared resources should they need or want.
Considering these trying times, it is worth remembering that, even in the midst of this pandemic, art nourishes the soul. Our local arts and cultural organizations are finding creative ways to stay connected with you virtually through technology. FBNP encourages you to check those out.
You can still reach FBNP by phone at (563) 599-9486, by email at info@flybynightdubuque.com, or check us out on Facebook at facebook.com/flybynightdubuque.
We'd love to hear from you anytime! FBNP is grateful for your continued support.
For now, as we weather this crisis together, stay well, safe, sane…and keep creating!
Editor's note: This article was provided by Fly-By-Night Productions.
Dubuque Symphony Orchestra
by William Intriligator
The mission of Dubuque Symphony Orchestra is to develop the appreciation of music through musical performances and educational programs while engaging the tri-state community and enriching its quality of life. The Dubuque Symphony Orchestra is a vibrant musical organization, which creates experiences in which music is enjoyed, understood, and valued. Its existence is central to the life of the tri-state community.
Dubuque Symphony Orchestra (DSO) performances cover a broad range of musical styles including classics, contemporary classical music, holiday concerts, ballet, opera, rock, and country. Performances reach all age ranges, from children to adults. Free concerts include an annual summer outdoor concert and seven annual Arts Trek education concerts. The orchestra also hosts four training ensembles for students, as well as a summer string camp.
In order to follow all recommended health and safety guidelines, the DSO has announced that their Classics 4 concerts, Classics 5 concerts, and Ultimate Country Hits are being postponed to a future date (yet to be determined). We thank everyone for their patience and understanding as we arrange new performance dates for these concerts. Please follow DSO's website (www.dubuquesymphony.org) or social media for updates.
During these trying times of isolation, many of us may feel an emptiness from not being together and sharing musical experiences with each other. May we return with a greater appreciation of the importance of music in our lives, realizing more deeply than ever, that live music brings us together as a community.
In addition to these rescheduled concerts, the Dubuque Symphony Orchestra will soon be announcing its 2020-2021 concert season. An exciting theme of Women in Music will be the focus, including works by female composers on each program as well as female guest artists. The orchestra will also finish its celebration of the 250th anniversary of Beethoven's birth with performances of his beloved Ninth Symphony and "Emperor" Piano Concerto.
As we think of the hardships we are enduring and the sickness that this virus is spreading across the globe, perhaps we can find hope in Beethoven's music. Beethoven understood despair and found a way to turn that despair into incredible strength. Despite the incredibly hard circumstances of his life, Beethoven had unwavering faith in the goodness of humanity and in the power of music to help unite us, to promote love, tolerance, and peace. As my friend pianist Katie Mahan has written, "His music offers us an unending message of hope and optimism that is much needed in this time of crises… We can each find inspiration in the music of Beethoven and in the knowledge that humanity will indeed overcome the COVID-19 crisis."
Thank you for your support of the Dubuque Symphony Orchestra during this challenging time. We wish you peace and wellness!
Five Flags Center
by H.R. Cook
Dubuque's entertainment destination and the largest entertainment venue in northeast Iowa, Five Flags occupies a full city block in downtown Dubuque, including the arena and the historic theater. The two venues combine to host more than 350 event days each year.
The Five Flags Arena celebrated its 40th anniversary in 2019. The arena plays host to a variety of events, ranging from concerts to sporting events to family shows to conventions. Already in 2020, it branched out to motorsports, hosting The Battle on the Concrete, a full day of flat track motorcycle and quad races. Other recent events in the Five Flags Arena include The Price is Right Live, the Battle for the Bluff rodeo, the El Kahir Shrine Circus (which sold out!), and the NCAA Division III Lower Midwest Regional Wrestling Championships. The arena also serves the Dubuque community as the home of the Dubuque public high school graduation ceremonies, the annual Toys for Tots Kids' Christmas, and Wags at the Flags, a wintertime indoor dog park.
The Five Flags Theater turns 110 years old in 2020. In fact, a theater has been located at the corner of 4th and Main Streets since prior to the Civil War! The current theater still showcases some original fixtures and architectural features. The Five Flags Theater is the home of the Dubuque Symphony Orchestra, the Rising Star Theater Company, Fly-By-Night Productions, and is one of the primary screening venues for the annual Julien Dubuque International Film Festival. In addition, it provides an intimate setting for touring music and theater shows. Recent performers in the theater include rising country star Jordan Davis, national touring shows The Choir of Man and Potted Potter, Trilogy: The Ultimate Tribute Show, local favorite Jim McDonough, and country legend Wynonna Judd.
Galena Center for the Arts
by Carole Sullivan
The Arts will survive. How many of us during this unsettling time have turned to art to take us to another world? To pass the time and to try to make sense of our situation, we have read books, listened to music, indulged in movies, videos of stage plays, TV shows, read and written poems, studied and created paintings, puzzles, and games. None of these things would exist without artists, and we need them all. Yes, the Arts will survive, but many of the arts organizations may not make it without help.
The Galena Center for the Arts should be in the midst of our busiest season right now. One of our goals is to bring people together through the arts, and we have succeeded with our welcoming and well attended exhibit openings and by bringing enthusiastic audiences together for plays and music. But for the time being, drawing people together is dangerous. So far, sadly, we have had to cancel at least two art openings and exhibits, two plays, four play readings, six Songwriters Showcases and other presentations, classes, and workshops. Dozens of artists will not be able to perform or exhibit their art as planned. Our earned income since March and for the next few months will be close to zero, but like any other business, we still need to pay the bills. Utilities, insurance, and upkeep for our venue, even if it is closed, still cost money. Clearly, not a recipe for survival.
I urge everyone to support the Arts in whatever way they can. One way or another, our Center will continue to share the Arts and support the artists. The Arts have a role to play in helping us understand this new world. As challenging as the times are, artists are incredibly creative, and will figure out a means of sharing their work. We look forward to celebrating art, in its many forms, to uplift you in the near future.
Smokestack
by Susan Price
Smokestack is a three-level arts and culture venue in a one-of-a-kind historic warehouse in the heart of Downtown Dubuque, right at the edge of the Millwork District. Smokestack celebrates adventurousness and creativity, history and culture, nightlife, art, dance, literature, theater, and music. Smokestack features performances, literary and visual arts, local brews, fun snacks, craft cocktails, and beautiful cityscape views year-round from Dubuque's only two public rooftops. Open for almost five years, Smokestack has been completely closed since March 15 due to COVID-19, but we hope to re-open for public and private events when public health experts deem it appropriate for large gatherings to resume.
Smokestack's monthly arts, culture, and entertainment offerings celebrate our local visual and performing artists: a new art exhibit in our 2nd Floor Art Gallery runs from First Friday through the last weekend of each month, First Fridays Bluegrass & Folk Jam with The Alumatics, 2nd Thursdays Yoga Fury with Kaity Kemp, 2nd Saturdays Latin Club Night with DJ Papi, 3rd Thursdays Jazz & Blues Jam with Round Midnight, 3rd Saturdays Illusions Drag Show, and Last Wednesdays Salsa Night with free lesson from Adam's Dance Connection. In addition to our monthly offerings, Smokestack also has the following touring and local artists tentatively scheduled at this time: Emple's Rooftop Rave on May 23, Good Morning Bedlam on May 28, Tink on May 30, A Few Blind Mice on June 6, Telling Tales on June 7, Dan & Ocean on June 25, Key City Pride Rainbow Crawl Rooftop Party on June 26, Emple's Rooftop on June 27. Smokestack offers beverages and light snacks for purchase, including some of the best craft cocktails in the region. Our calendar of events, including ticketing as needed, can be found on our Facebook page and our website, smokestackdbq.com.
Smokestack celebrates people, art, love, laughter, and life by being authentic, open, and accepting of all people, by assisting people in their personal journeys toward self-empowerment and self-realization. We feel that all people are beautiful, as are all forms of creative expression. We encourage exploration of self, this unique space, and its collective energies. Smokestack's site has been used by local peoples as a place of gathering, spirituality, and celebration for almost 2000 years, so our stewardship of this important property respects its many uses through the ages while bringing it back to its roots, sharing all that it is with the community. We are proud to collaborate with like-minded local partners such as the Multicultural Family Center, Key City Pride, Adam's Dance Connection, Driftmore Music Festival, Church of Free Souls, Asylum Recording Studios, and many more.
All of us at Smokestack look forward to sharing our space and our lives with new and old friends again. Until then, please stay safe.
Smokestack is located at 62 East 7th Street at the corner of White Street. Winter Hours: Thursday-Saturday @ 4:00 PM-midnight (or later at staff discretion). Summer Hours: Wednesday-Sunday @ 4:00 PM-midnight (or later at staff discretion). Smokestack is available for rental 7 days a week for public and private special events. Smokestack's entrance is by our garden; please check in at the 1st Floor Bar.
Outside the Lines Art Gallery
by Stormy Mochal and Connie Twining
Outside the Lines Art Gallery has been on the front lines supporting artists through sales of their work since 2003. Owners Stormy Mochal and Connie Twining now represent over 150 artists and artisans, many of them local to the tri-state area. Our mission of helping artists stay in the business of being artists has always been first and foremost in our minds.
Since selling art is the focus of our business, we have two brick and mortar galleries, one in Dubuque and one in Galena, IL, with support from a small number of employees.
Through the years, our gallery has contributed to the vibrant vibe of downtown Dubuque, taking part in the monthly downtown art walks, offering artist demonstrations, student shadowing, and collaborations with other businesses including ongoing art exhibits at NICC's Downtown Center for Professional Development. And in September, we host The Great Draw Street Art Competition to raise money for four art scholarships.
When COVID-19 made its appearance in March, the impact was immediate. We laid off our employees and stopped drawing a salary. No more walk-in customers, no high school award ceremonies to attend, and almost zero in sales.
Illinois mandated closing non-essential businesses fairly early, so we closed our Galena gallery in mid-March, just as the visitor traffic was supposed to start ramping up, too. Main Street was a ghost town on St. Patrick's Day, and to call it eerie was a huge understatement. Where were the revelers? What happened to the parade? In Galena, no visitors equal no income; they are the single economic driver.
Soon after, we closed the doors on our Dubuque gallery as well. After the initial shock wore off, we began ramping up our online presence and, like every other business owner trying to stay afloat, we applied (and are still looking) for grants and loans to help us see through this desert.
Convincing people that art is an essential element to their lives when the economy is clicking along at a healthy pace is enough of a challenge. Trying to stay solvent during the weeks and months ahead is going to be exceptionally challenging, but we're going to do our utmost to stick around. We urge everyone to think outside the box a little and to shop small, shop local.