by Sandra Evans
Get ready… JDIFF is now only weeks away! Time to visit the JDIFF website, read film synopses, call friends, and plan your immersion into the film fest right here in hometown Dubuque. The Dubuque International Film Festival runs from April 24-April 28. Check out the special event listings following this article, and visit the JDIFF website for the most up-to-date information.
Susan Gorrell, executive director of the festival, works to attract two groups of people to the festival: filmmakers and film enthusiasts. For the filmmakers, she offers home stays, prizes, and networking opportunities. Of course, they also get the opportunity to promote their film. For film enthusiasts, the 'prizes' are the films themselves, many of which film goers would not otherwise get the opportunity to view. Crediting Dubuque, Susan says, "I create the reason… people want to come, but the community creates the reason to [return]." Although not quantifiable, the increased attendance might also be due to word-of-mouth because all who attend JDIFF have such a wonderful experience.
This year JDIFF will be screening 100-110 movies. A group of 100 people and Susan Gorrell preview films, selecting those that will show in Dubuque. Shorts, features, documentaries… serious, dramatic, comedic, quirky… whatever your interests, you will find it here. Look for the films to challenge pre-conceived ideas, cause you to chuckle, stimulate your imagination, open your mind, and expand your knowledge. According to Susan, film enthusiasts will be "introduced to films that are educational as well as entertaining."

Of all the films showing at JDIFF, a few of them will be highlighted below to pique your interest.
One documentary to look forward to is The Trouble with Wolves by Collin Monda, which has already earned a number of Film Festival wins and awards. Having worked on the film for five years, Monda has created a balanced documentary, showing all sides of this controversial issue. After being reintroduced in Yellowstone Park, wolves have made an amazing comeback, but people often tend to either love them or hate them. In his film, Monda shows the issue as far more complex. "The Trouble with Wolves is a rich character study revealing what's really going on in the West, and it probably isn't what you've been told by agenda-driven environmentalists or rabid anti-wolves groups" (troublewithwolves.com).
Another interesting documentary, Hearts of Glass: A Vertical Farm Takes Root in Wyoming by Jennifer Tennican, is about a multi-story hydroponic greenhouse on 1/10 of an acre in Jackson Hole. The film follows the first 15 months of this innovative business venture, with the potential of producing 100,000 pounds of produce in one year. The business has been dubbed a "for profit business with a non-profit soul" (JenTenproductions.com) as they employ people with intellectual and developmental challenges (a population with only 12% employment). In this film "plants and people grow together in this intimate portrait of innovation, inclusion, and opportunity" (JenTenproductions.com).
Considering the numbers of people living with Alzheimer's or other forms of dementia, many viewers will be able to relate to and value the documentary Love is Listening: Dementia without Loneliness. As the title implies, the films explores ways of communicating effectively with those experiencing dementia. Credited as a "gift to humanity," the film "brings globally recognized authorities in the arts, science, and spiritual traditions together to reveal how we can move from fear to being with people with dementia" (memorybridge.org). The film is a collaboration among Evelyn Glennie, Michael Verde, and Memory Bridge.
The feature film Peaks and Valleys, written by Michael Dillon and directed by Michael Burns, promises to keep viewers on their seat edges as the story begins with a teenage girl wrapped in plastic being thrown from a plane into the Alaskan wilderness. Only two characters are in the film: the girl Bailey, a "city girl and drug addict," and Jack, a "hard-nosed, mysterious loner." Burns describes this film as a "thriller mystery" as well as a "survival story" (anchoragepress.com).
Tim McKinnel meets Teina Pora in this exclusive clip from this week's Sunday Theatre.In Dark Places | Sunday 8.30pm

Posted by TVNZ 1 on Thursday, July 19, 2018
The next film brings attention to a significant problem in society: incarceration of innocent individuals. Michael Bennett's In Dark Places "is the gripping story of an innocent man, imprisoned for two decades for a crime he didn't commit, and an ex-cop's heroic battle to win him his freedom" (imbd.com). The film is a dramatization of the true story of Teina Pora, convicted of rape and murder in New Zealand in 1992 and Tim McKinnel, who works on his behalf. Bennett has also published a book by the same name.
In addition to the great selection of one-of-a-kind films, often after the showings, filmmakers make themselves available for questions from the audience. Also, numerous special events and panels are available as part of the Festival. Again, please reference the JDIFF website for current information and schedules.
Be sure to attend this spectacular arts event Dubuque is fortunate to have. Last year filmmakers and film enthusiasts attended from Germany, Poland, Brazil, United Kingdom, and Canada. As excited as Susan is for the event to begin, she loves it when at the conclusion, visitors tell her, "Dubuque is amazing, and I can't wait to come back." Here's wishing for a great 2019 Julien Dubuque International Film Festival!

JDIFF Schedule of Special Events
*All events are open to public. Events are free unless tickets are required. Check website (julienfilmfest.org) for updated information.
Kick-Off Event: Tuesday, April 9 at 6:30 at Hotel Julien. Pre-event of JDIFF, which provides the opportunity to view trailers, plan schedules, and purchase tickets.
Welcome & Mingle: Wednesday, April 24 from 6:00 – 8:00 p.m. at Five Flags. Sponsored by Five Flags, filmmakers, producers, and reviewers will be available to meet and converse with in a casual atmosphere/cash bar with free hors d'oeuvres!
Runde Auto Group Free Day: Thursday, April 25. Film enthusiasts can view movies for free thanks to Runde Auto.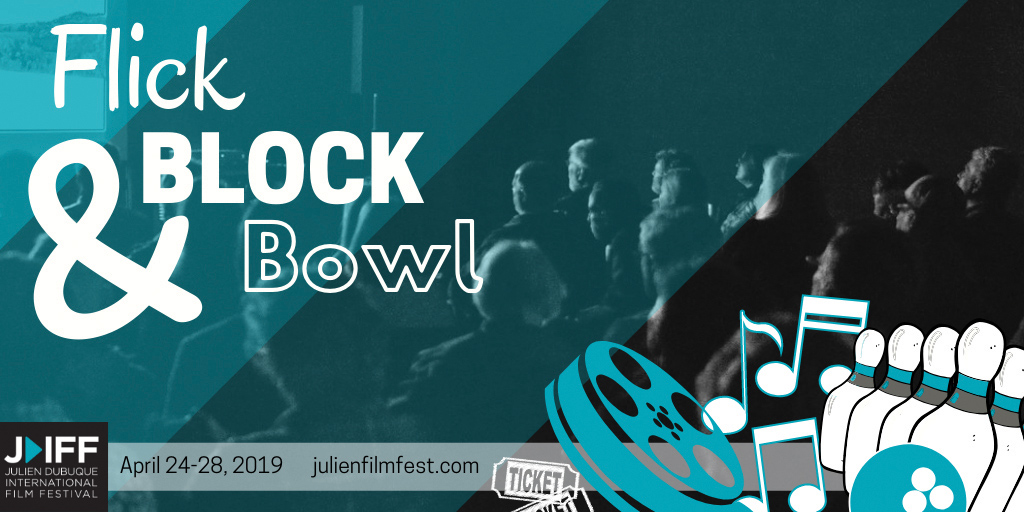 Flick, Block, & Bowl: Friday, April 26. Flick:  Red carpet screening of When Jeff Saved the World at 4:30 at Five Flags. Q & A to follow with director, producer, and cast members (TBA). Tickets: $10:00 in advance/$15.00 at door.
Block Party: live music social event on Main Street between 2nd and 3rd. Band Schedule: 6:00 Almost Classy/8:00 Arzalez. Alternate site if inclement weather: Hotel Julien Ballroom. Sponsored by American Trust.
Bowling: at Cherry Lanes in Diamond Jo Casino with JC Brooks (from movie) performing. Tickets: $20.00 in advance / $30.00 at door. Tickets cover bowling, shoes, and food / cash bar available. Sponsored by Diamond Jo.
Special Screenings:
Straight/Curve: Redefining Body Image (documentary about "industries and obstacles responsible for current body image crisis"). Showing on Friday, April 26 at 1:00 in Hotel Julien Ballroom. Guests of Honor: Director of film, photographer who photographs plus-sized women, and Emme, the first mainstream plus-sized super model.
Laddie: the Man behind the Movies (documentary about famous, Oscar-winning director Alan Ladd, Jr.). Showing multiple times throughout the five days of Festival (check website / program for times and locations). Guest of Honor: Editor and Co-producer Chip Mauro.
Children's Event: Sunday, April 28 from 10:00 to 4:00. Sponsored by the Chandlee family. One 1-hour workshops by Bell Tower, Creative Adventure Lab, and Scene Studio held at Creative Adventure Lab.
Celebrate Canada: Thursday, April 25 at 7:30 at Five Flags Theater. A Canadian film screening with Q & A to follow. After Party at Riverboat Lounge at 9:30; music by Lonely Goats.
Awards Night: Saturday, April 27 at 8:00 p.m. at Five Flags. Awards Show hosted by Radio Dubuque with Johnny Roads and Lisa Bennett, with several bands providing entertainment during the awards ceremony. After Party: 9:30 to midnight in Five Flags arena – free food, cash bar, Ceili Rain performs.
Other Information
Venues: Film Screening Venues – Five Flags (Theater, Bijou Room, Majestic, Opheum Rooms), Hotel Julien (River Room and Ballroom) also Festival headquarters, Holiday Inn (Blue Moon Room), Mississippi River Museum (Journey Theater), Phoenix Theater, Creative Adventure Lab. Children's Events Venue – Creative Adventure Lab, Coffee Talks Venue: pop-up coffee shop by Charlotte's in prior Stam building. Cocktail Events Venue – Wicked Dame.
Speakers/VIPs: Emme (first plus-sized super model), Klaus Eder from Germany (General Secretary of International Federation of Film Critics).
Volunteer Orientation: If you want to volunteer for this wonderful event and missed the first volunteer orientation, you still have the opportunity to attend either of the following: Saturday, March 30 at 11:00 a.m. or Sunday, April 7 at 4:00 p.m.