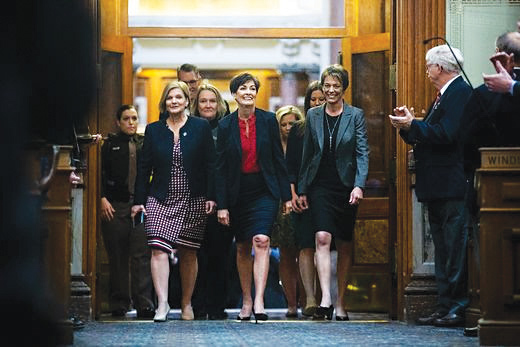 During her Condition of the State Address, Governor Kim Reynolds announced plans for investments in childhood mental health projects and programs. Reynolds used a 2018 Study by Mental Health America to highlight Iowa's recent investments in mental health as well as show the need for continued investment. The Condition of State Address took place on the second day of the just opened 2019 Session of the Iowa Legislature.
Reynolds said that by 2021, Iowa's mental health system will have six access centers and 22 mobile mental health treatment teams across the state. The access centers will provide services to Iowans when they are in crisis, but do not need hospitalization. Mobile teams will help individuals impacted by mental illness live independently in the community. The Administration is recommending an additional $11 million in funding over the next two years to ensure sustainability of these new services.
An additional $1.2 million in funding over the next two years is being proposed to provide home and community based children's mental health services to additional children.
$150,000 is proposed to provide specialized training to expand the Iowa mental health workforce resulting in improved access to mental health services in Iowa. The University of Iowa Psychiatry Department and the University of Iowa College of Nursing will provide specialized training in psychiatry to physician assistants and nurse practitioners.

Also being recommended is $306,250 to expand the Your Life Iowa system to include information, support, and referrals for children experiencing or having mental health concerns and related topics or issues. The Governor is also recommending $3 million to train teachers and educators to detect potential mental health issues in their students and to determine appropriate follow-up.