What better excuse to celebrate an annual party tradition dating back to the early 1900s in the local French bars and bistros than with one of Galena's most celebrated events: Nouveau Wine Weekend! Now in its 34th year, Nouveau is slated for Friday, November 16 and Saturday, November 17, 2018 – in all its autumn glory.
With Galena Cellars Vineyard & Winery at the event's heart, the Galena Nouveau celebration is always held on the third Friday of November – the weekend before Thanksgiving – and showcases the annual release of Le Beaujolais Nouveau, which refers to the practice of bottling the first wine of the harvest just a few weeks after fermentation.

"This fresh and fruity wine is the result of a quick fermentation process and is enjoyed the world over," associate winemaker Chris Lawlor explains. "Two months ago, the wine in your glass was grapes in the vineyard. From picking to bottling, the turnaround for the Nouveau wine is about 6-8 weeks." Clearly not for wine snobs, this youthful wine is meant for immediate consumption and enjoyment while the more serious wines will take their time developing in the cellar.
"This year's Nouveau is a Gamay Noir blended with whole berry pressed Illinois Red Wine," adds associate winemaker Eric White. "We use the complexity of the Old-World Gamay grapes and blend it with the New-World Illinois French-American hybrid grapes to give the wine a new attitude with fresh acidity."

Kicked off in Galena in 1985 by Galena Cellars, Nouveau Wine Weekend has grown to become a community celebration that revolves around all things wine – particularly Galena Cellars' 2018 Nouveau wine. 34 years in the making, the third generation will step in to reinvigorate the French and Family tradition. Old world tradition with new world attitude!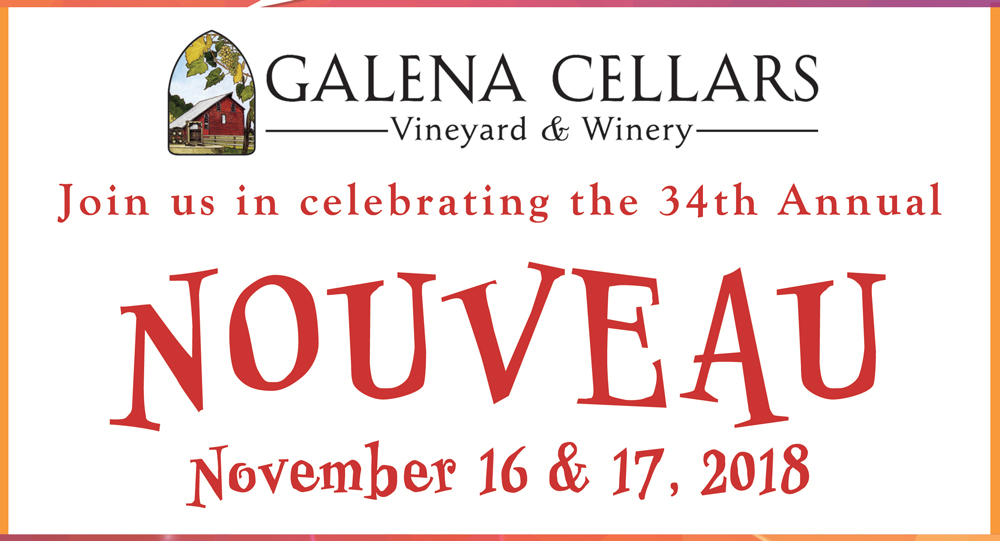 "Nouveau wine is the kind of affordable wine that aspires towards drinkability without needing to be powerful or complex. This wine has very little tannin and is an early indicator of the quality of the years regional harvest" Chris explained. "Nouveau is getting together to celebrate the harvest. It's not about the wine… it's about friends and family. That's exactly what our Nouveau Wine Weekend is all about."
This year's artwork was designed by Tom Myers of Chatham, IL. Titled "Year of the Dog," it celebrates the life of our late, beloved vineyard dog and greeter, Ziggy, who is portrayed as being up in dog heaven enjoying a glass of Nouveau with his new fun French friends.
The weekend activities get underway at noon on Friday, November 16 when the new wine is officially released with a toast at Galena Cellars' opening luncheon held at the Main St. location and the DeSoto House that day. Many area restaurants follow suit and celebrate with traditional French fare and wine-inspired luncheons.
The afternoon festivities continue at 2:30 p.m. with a parade of revelers assembling for a trek down Galena's Main St. in assorted modes of transportation and merriment, from horse-drawn wagons to trollies, as the Nouveau wine is handed out to Galena merchants who display the Nouveau posters in their shop windows.
Local restaurants and Galena businesses continue the celebration all weekend with live music, wine tastings, dinner specials, and receptions.

For more information on Nouveau Wine Weekend, to make a reservation for the annual Lawlor Family Nouveau Toast & Winery Luncheon, lodging facilities, and other wine events, go to NouveauWeekend.com or GalenaCellars.com.