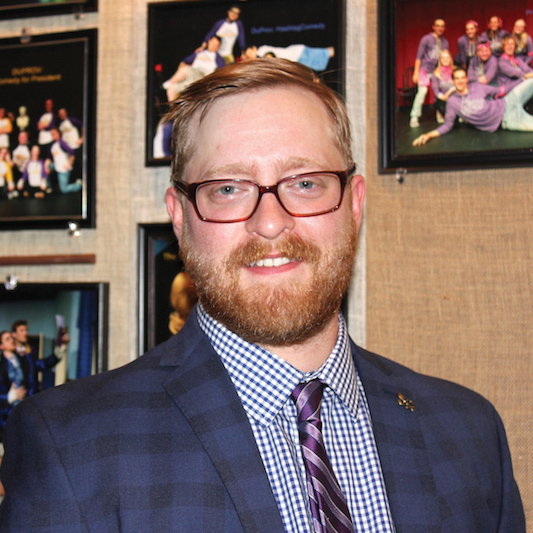 Loras College announces the hiring of Ryan Decker as assistant professor and director of theatre. He becomes only the seventh director of the Loras Players in its 108-year history. Decker replaces Doug Donald who retired in May after 18 years at Loras.
Decker, a native of Dubuque, will teach in the Loras' Communication and Fine Arts Department, direct productions through the College's Loras Players theatre organization, direct a biennial faculty/staff play, serve as the advisor to DuProv, an improv troupe, as well as the Guild of St. Genesius Theatre Honor Society.
Locally, Decker served as a director for the Grand Opera House and Dubuque Fine Arts Players. For more than six years, Decker was the events editor for Julien's Journal Magazine.
In 2008, he co-founded and served for seven years as artistic director for Trainwreck Productions in Dubuque, a "found-space" theatre company that presents contemporary ensemble and original productions. He is now managing director.
Decker has directed and acted in a variety of plays and musicals, from classical to original productions throughout the Midwest and South.

Highlights of his directing work include The Royale (University of New Orleans; KCACTF Excellence in Directing, Invited Production; Big Easy-nominated), The Drowsy Chaperone (Dubuque Grand Opera House) and A Midsummer Night's Dream (Bard-in-the-Yard/University of Northern Iowa).
Early in his career, he served as marketing and public relations director for the NOLA Project, an ensemble-driven theater company, in New Orleans, and assistant director for Southern Rep Theatre, the city's only year-round professional theater.
Decker earned his bachelor's degree in theatre performance/acting and a minor in music from the University of Northern Iowa. He later received his master of fine arts degree in film and theatre performance/directing from the University of New Orleans.