Shullsburg, WI invites you to the twenty first annual Cheesefest! Shullsburg welcomes fall by celebrating the cheese heritage of the city with experiences the whole family can enjoy. Held on the town's historic Water St. the street is closed to motorized traffic for the Cheesefest so you can enjoy the festival, town, and history in its full glory.
Water St. fills with crafts, vintage antiques and baked good vendors from 9:00 a.m.- 4:00 p.m. The historic street is home to several local shopkeepers with goods and wares bound to please. If you indulge in shopping for the special and unique, plan to decorate for fall, or are simply looking for some wonderful treats to bring home, you may need a large car to take all your finds and treasures home. Don't forget to stop by the local library for their annual book sale.
Live stage entertainment featuring the popular Schumacher Family Band and local talent are at the center of Water St. Sit and listen or enjoy the music as it serves as the backdrop to shopping and other activities.
Perhaps you are a foodie at heart – look no farther! From Food Trucks to FFA cheese curds, the Fireman's Breakfast, and established local pubs and restaurants with fare and atmosphere to meet every taste, you are sure to find food paradise at Shullsburg's Cheesefest.
Experiences throughout the day will keep you busy. Try your hand at building scarecrows, take a hayride through town and view scarecrows on display, send your older children to play laser tag in the park, ride the Cheese Train, try out your artistic talents with canvas painting, or take your child to the kids' games, balloon art, and entertainment on the main stage.

It wouldn't be Cheesefest without the focus and activities around cheese. Local cheesemakers display and sponsor cheese events throughout the day. View cheese being made, guess the weight of the cheese, enter the cheese tasting contest and – back by popular demand – the cheese curd eating contest. Enjoy the wine and beer tasting event, featuring Wisconsin wines and City Brewery brews. Cheese pairings will be offered with your favorite glass of wine or beer.
Wrap up the day with the raffle drawing and announcements of winners. Cheeseheads look forward to finding out who wins the grand prize: Packer tickets to a 2018 Lambeau Field game.
If Saturday isn't enough you may want to make it a full weekend, come early for the third annual Porchfest, Friday, October 5 from 7:00 p.m.-11:00 p.m. at the Copeland Guest House front lawn. Enjoy live music by the Copeland Bell Hops and food available for purchase. Outside beverages are welcome.
The community has wonderful retail shopping, restaurants, and an amazing coffee shop. Cheesefest organizers recommend you consider staying at one of the local Shullsburg bed and breakfast inns for the weekend.
As you leave town with a smile on your face and memories made, make your way to the famous Gravity Hill just outside of town. Put your car in park and feel it being pulled UP the hill. Maps will be available at the information booth.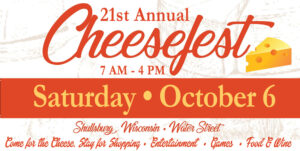 The Shullsburg Community Development Group brings you Cheesefest with sponsorship from the Wisconsin Milk Marketing Board, Shullsburg Creamery, White Hill Cheese, Truck Country, Bytec, Prairie Farms and many local businesses.
Editor's note: Article supplied by Shullsburg Community Development Corporation; edited by Julien's Journal.