Since 2011, Stone Cliff Winery's Brew Ha Ha Players have been performing fast-paced, audience-participation murder mysteries. Staged dinner-theatre style, the actors meander throughout the audience members who sit at tables of four to eight and eventually witness the oftentimes hilarious demise of one of the characters and then help solve WHODUNNIT – all while feasting on a four-course meal.
For over seven years, Stone Cliff owners Bob and Nan Smith, took the "Wouldn't it be fun if" idea of hosting an original, scripted murder mystery specific to the historic roots of the Star Brewery (now Stone Cliff Winery) and have transformed that pondering into a tri-states' must-see monthly murderous mayhem. Stone Cliff now offers six different show options throughout the year – two scripted and four improv. The cutthroat comedy slays audiences with public performances each month, including two different Christmas-themed shows scheduled for December 2018. Private parties also delight in these highly unpredictable, laugh-out-loud evenings of make-believe manslaughter.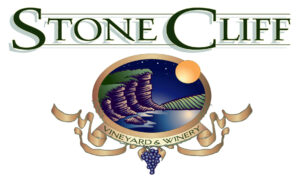 How It All Started
While having already done a sprinkling of improv murder mysteries in partnership with the Grand Opera House the year prior, Stone Cliff commissioned an original script in 2011 reflectively named Brew Ha Ha, as it was loosely based (very loosely based, that is) on the Rhomberg family and Star Beer. The script also incorporated some historic Dubuque references as part of the plot. At that same time, Dubuque actress Cathy Goodman was secured as director and quickly assembled a bevy of actors. The show ran for roughly four years, and then a good problem presented itself: people loved the experience so much that they wanted to come back for more!
Having eventually adopted its first script title as the theatre troupe's name, the Brew Ha Ha Players dusted off a couple of the murder mystery improv scripts staged previously at Stone Cliff to meet the demand, but people still wanted more.

Always on the prowl to give audiences what they want, Goodman contacted local playwright Kyle Klapatauskas to "whip up a script." He respectfully declined the offer, as he didn't think it was his genre. Not knowing Klapatauskas very well at the time, Goodman accepted his decision and continued to search for someone to pen a new show. Her search was over a few months later when she saw one of Kyle's original melodramas he had written for Loras College's faculty/staff play, where Kyle serves as Director of Admissions and Goodman is an Adjunct Instructor.
"Listen, Kyle," Goodman offered (okay, demanded) when she approached him again, "You know that hilarious farce you wrote just for Loras? This is the same thing. You just need to kill someone off," and she held the proverbial gun to his head to scribe a new show. The only criterion: "Make it a roaring '20s theme." And, thus, Murder at the Fish Fly Club was born.
Fast Forward to Today
Fish Fly, as it's referred to by the cast, first played in 2016 and has been met with great enthusiasm. The costumes are spectacular, and the show is nothing but fun. The play unfolds through a series of flashbacks told from each character's perspective. It's whimsical, clever, and features some of Dubuque's premiere actors. Klapatauskas takes on the role of the Inspector and plays it to perfection.
Jodi Bryson, Stone Cliff's Event Coordinator, says, "Our Murder Mysteries have really taken off. Our guests love them. We have one large group in particular that has been to every show. When they called to book the February show this year, the group leader already knew another Christmas show was in the works. 'We've friended a lot of the actors on Facebook,' she explained while making her reservation. 'Cathy private messaged me with the inside intell[igence], and we already have it on the calendar. Your group is awesome.' By the feedback we get from others, as well," Bryson added, "we couldn't agree more."
Not even a year after unveiling Fish Fly, Bryson found that Stone Cliff was having that good, we want more problem again, and requested a new script. "A western," Goodman concluded, and Klapatauskas was given that single directive to author a new show. Gritty Gritty Bang Bang features most of the actors from Fish Fly, a few new faces and incredible costumes. The flatfoot who solves the crime dons blinged-out cowboy boots and fashions and packs an equally bedazzled revolver, as Stacia McDermott (who also happens to work at Loras) plays Sheriff Kitty Pinkerton, the first female detective west of the Mississippi.
Cut Loose Tree Farm, which debuted in 2017, was drafted by Goodman's brother Tom Goodman – also a member of the cast – and then tweaked by castmate Lisa Pence and director/castmate/sister Cathy. "We found out kind of last minute that a group who hired us to do Ho, Ho Homicide for their private Christmas party in 2016 wanted us to do another Christmas show in 2017," stated Pence. "Luckily, Tom had already been toying with a new Christmas script that he sent to the cast for consideration. Cathy thought we'd unveil it in 2018, but after some quick adjustments to accommodate easier costuming, a week later, Cut Loose was a hit and is now a permanent part of the lineup."
"The no-ego camaraderie of this group coupled with Bob, Nan, and Jodi's willingness to pretty much give us free reign is how it all works," concludes Klapatauskas. "It's hard to say who has a better time at these shows, the actors or the patrons," Goodman interjects. "Needless-to-say, it's a killer evening for everyone involved." (Yes, she really said that.)
The Shows
MURDER AT THE FISH FLY CLUB by Kyle Klapatauskas
A night of mystery and intrigue in the wild and romantic era of the roaring '20's! Buzz Nessman, the owner of Dubuque's most popular speakeasy – the Fish Fly Club – has just been murdered. Was it the prohibitionist NA O'Doul or Buzz's jealous business partner Bootleg Willie? Maybe it was the jazz singer Bea Sharpe or perhaps Betty Jane – Buzz's sweet-but-not-so-innocent mistress. Join the bumbling detective, Jack Slickman, as the murder unfolds before your very eyes.
GRITTY GRITTY BANG BANG by Kyle Klapatauskas
With audacious characters like the poker playing One-Eyed Jack; Scarlett, the overly friendly call girl; and Kitty Pinkerton, the new sheriff in town who's dedicated to law and order; this evening is filled with action, laughs, and some good ole stick-to-your-ribs country grub, as the small town of Fort Wiota tries to figure out who shot the contemptible Callous Crud. Maybe it was the traveling snake oil salesman or the singing cowboy? Or perhaps it was the homely kitchen wench who has a sweet spot for sour characters. Join us as we put the "wild" in the Wild West!
MARRIAGE IS MURDER
Looking for a Killer Night out on the town? The Baron Klaus and Baroness Hilda von Ludwig cordially invite you to the engagement party of their only daughter Heidi to the Count Froderick von Franck of Frankfurt – or is he? Let's face it, marriage can be murder! Before the happy couple pronounces any "I do's," the authorities pronounce… a death. Come help the Inspector at Prye, Sneke & Peekatim Detective Agency figure out whodunnit.
AN IRISH WAKE
Imagine the ballad "Finnegan's Wake" transformed into the Irish version of "one of those Italian weddings," only in place of the nuptials, there's a funeral. Then you've pretty much got the gist of the show. Better prepare your eulogies now.
CUT LOOSE TREE FARM by Tom Goodman, Cathy Goodman, and Lisa Pence
Cut Loose Tree Farm is the only tree farm in Iowa that carries all 16 varieties of Christmas trees. They're known for their perfectly pruned pines and beautiful balsams. But it's just before Christmas and a parasite has proven to put inventory in peril. President Pine (who prefers Christmas Cocktails rather than taking the family tree business too seriously) isn't too concerned. Everyone else is, as jobs are on the chopping block. But wait! That chopping block just got more interesting… Who's on it? Marketing Director Sappy Selfie? The company's accountant-and-resident karaoke queen, Merryoke? Perhaps Jack Frost or Holly N. Ivy is in the know… or maybe they're about to be butchered themselves. It's a prickly place for Christmas capers this fine December, for sure.
HO, HO HOMICIDE
Everyone at the North Pole is working extra hard this year to make this a holiday to remember, but something's amiss on Poinsettia Parkway. The newest, coolest, and most revered kids' bike on the market – Zuzu's Pedals – has some production issues. On top of that, Mrs. Claus is worried about Santa's diet but mostly his sugary-sweet secretary Candy Cane. Add in some elves, an environmentalist who's checking everything twice, and a perky Customer Service Rep who covers Santa's Ho, Ho Hotline, and you've got a Ho, Ho, Hilarious Homicide.
Remaining Shows for 2018
Dates Subject to Change Due to Actor Availability. Check Out StoneCliffWinery.com for the most up-to-date schedule.
03/11 – Irish Wake
04/22 – Gritty Gritty Bang Bang
05/20 – Gritty Gritty Bang Bang
06/24 – Murder at the Fish Fly Club
07/22 – Gritty Gritty Bang Bang
08/19 – Murder at the Fish Fly Club
09/23 – Murder at the Fish Fly Club
10/21 – Gritty Gritty Bang Bang
11/18 – Gritty Gritty Bang Bang
12/09 – Ho, Ho Homicide
12/16 – Cut Loose Tree Farm
Editor's note: This article was provided by Cathy Goodman.