The University of Dubuque presents its fifth annual Christmas at Heritage Center. This year's celebration, titled "A Little Child, God Before Time," will tell the story of Christ's birth.
Attendees are encouraged to come early to enjoy live handbell choir music from Madison, WI Area Concert Handbell Ensemble in the lobby at 6:30 p.m. A light reception will follow the performance.
Christmas at Heritage will follow the Christmas narrative "Kontakia of Romanos, Byzantine Melodist I: On the Person of Christ," translated and annotated by Marjorie Carpenter. The narrative correlates with choral texts and instrumental pieces chosen to tell the story of Christ's birth in a seamless performance. Selections will include new arrangements of holiday favorites such as "Away in a Manger," "Silent Night," and "Hark! The Herald Angels Sing."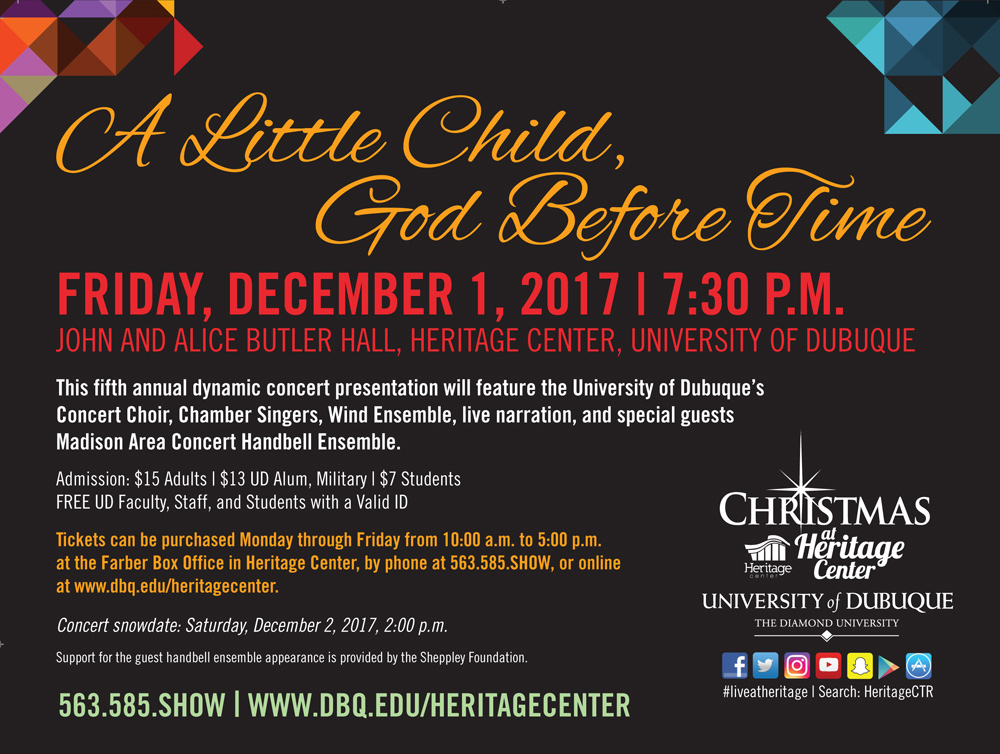 The concert will feature the talents of the UD Concert Choir, directed by Charles Barland, professor of music and head of the Fine and Performing Arts Department; the UD Wind Ensemble, conducted by Benjamen Blasko, director of instrumental music and assistant professor of music; and the UD Chamber Singers, directed by Kristen Eby, adjunct music faculty.

Featured narrators will be Thomas Robbins, executive director of Heritage Center; Annalee Ward, director of the Wendt Character Initiative; Brian Hallstoos, associate professor of history; Kevin Cattani, director of sports marketing and associate professor of health, wellness and sport; Sean Benson, professor of English; and Elizabeth Swan (C'17), graduate student in the University of Dubuque Theological Seminary's Master of Divinity program.
"I wanted to be involved with Christmas at Heritage because it is a beautiful way in which I can glorify God. I feel extremely grateful and honored that God would give me this opportunity to play the role of Mary. It is quite a high standard to play the Mother of our Savior! I pray I can represent her well," said Swan, a Campus Ministry graduate assistant and WorldView Seminar I instructor.
Joining the UD ensembles on stage will be the Madison Area Concert Handbell Ensemble. Support for the guest handbell ensemble appearance is provided by the Sheppley Foundation.
"This year's theme seemed to lend itself to new features such as a guest handbell choir and faculty/staff narrators. These new features, in addition to the classic components of UD singers and band, will hopefully result in a higher level of spiritual inspiration," Robbins said.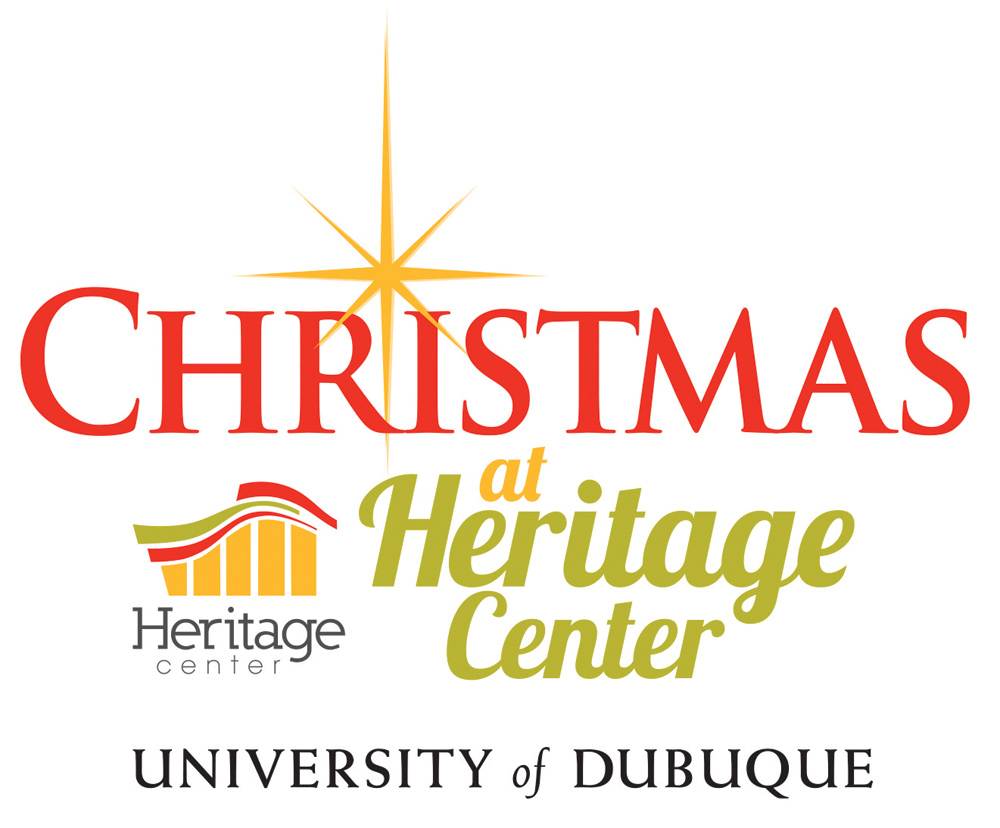 Tickets are $15 for adults, $13 for UD alumni and military, $7 for non-UD students, and free for UD faculty/staff/students. Reservations are required. Call (563) 585.SHOW or visit Dbq.edu/HeritageCenter.
Editor's note: Article provided by the University of Dubuque, edited by Julien's Journal.