The fifth annual Dubuque Food and Wine 2017 event, sponsored by Hotel Julien Dubuque and the Diamond Jo Casino, returns to the Port of Dubuque with the Grand Gourmet Food and Wine Tasting kicking off the weekend at Diamond Jo Casino's Mississippi Moon Bar on Friday, November 3, from 7:00-9:00 p.m. Whether you are newly indoctrinated or a veteran who's looking to expand your palate, Friday night's Grand Tasting will provide you with everything you're looking for. The event opens at the Diamond Jo with food being prepared by Woodfire Grille, Caroline's Restaurant, L.May Eatery, Pepper Sprout, and Brazen Open Kitchen | Bar. Wine tables are placed about the room for your vino tasting pleasure and delicacies prepared by the restaurants are interspersed at stations throughout the room, as well.
If you want to take your tasting to another level, there is the VIP Grand Gourmet Food & Wine Tasting on Friday evening as well. The VIP Tasting Event at Dubuque Food & Wine is the must-attend event of the year. Whether you are a serious wine collector or a student of the grape, these offerings are sure to please. The VIP Tasting features premier access to the Grand Tasting an hour before the doors open to the public, along with admittance to the VIP Suite from 8:00 p.m.-9:00 p.m., for a select tasting of dessert wines as well as a buffet of decadent sweets provided by the Diamond Jo. These specialty wines and desserts will be unavailable during the Grand Tasting.
Attendance for the VIP Grand Gourmet & Tasting was so celebrated that the number of available tickets has increased from 50 to 100. Don't miss out on the privileges this fabulous event offers, as well as the ability to take advantage of the smaller crowd and extra time to talk to winery representatives and winemakers about their craft. Your VIP status also rewards you with your very own Dubuque Food & Wine Swag Bag, valued at over $100.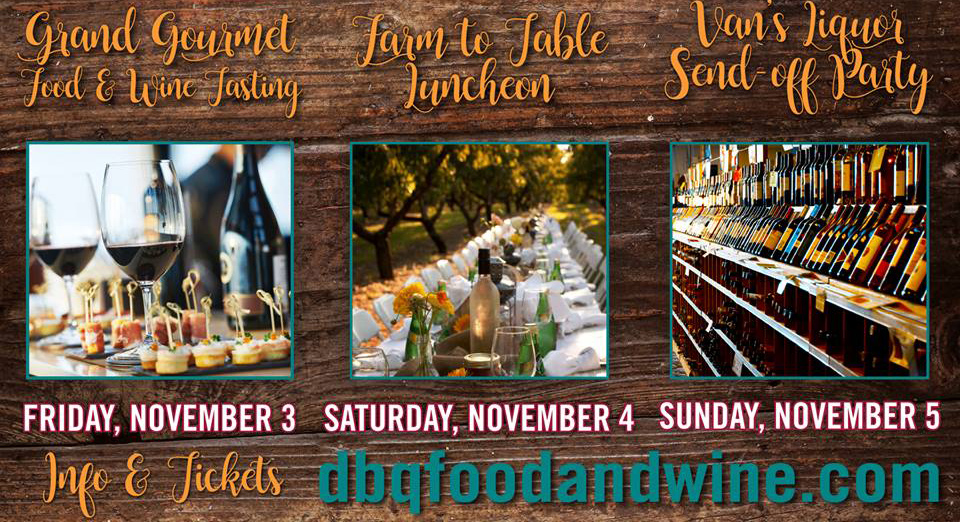 New to the fest this year is the Saturday, November 4 Farm to Table Luncheon at Stone Cliff Winery, taking place from 12:30-4:00 p.m. This three-course luncheon uses food sourced from our community, and will feature an ensemble of talented chefs from the participating restaurants. Each course will spotlight a team of two chefs, as well as a paired wine to complement the culinary collaboration.

"Farm-to-table" is a phrase that can mean different things to different people. At its heart, however, farm-to-table means that the food on the table came directly from a specific farm, without going through a store, market, or distributor along the way.
In its purest, most honest form, farm-to-table means the table is actually at the farm and cooks or chefs prepare and serve the food at the farm (even in the field), or in this case, under a tent at Stone Cliff Winery.
More commonly, the use of farm-to-table emphasizes a direct relationship between a farm and a restaurant. Rather than buying through a distributor or a food service, some restaurants establish relationships with farms and buy directly from them.
The talented chefs for the weekend's tastings and luncheon include Kevin Scharpf – Brazen Open Kitchen | Bar, Tony Joos – L.May Eatery, Josh Garton – Woodfire Grille, Jason Culbertson – Caroline's, and Molly McCullough – Stone Cliff Winery.
The weekend will conclude at Van's Liquor Store in East Dubuque, IL on Sunday November 5 from 10:00 a.m.-1:00 p.m. with sendoff mimosas, Bloody Marys, scones, and pastries for your enjoyment. More importantly, there will be retail wine and beer deals that include all of the weekend sampled beverages. This is a free event and a great way to cap off the weekend and stock up on wine, beer, and spirits for the approaching holidays.
Ticket prices are as follows:
• Friday Grand Gourmet Food & Wine Tasting – $65
• Friday VIP Grand Gourmet Food & Wine Tasting – $100
• Saturday Farm to Table Luncheon @ Stone Cliff Winery – $65
• Weekend Ticket includes: Friday's Grand Gourmet Food & Wine Tasting and Saturday's Farm to Table Luncheon at Stone Cliff – $120
• VIP Weekend Ticket includes: VIP Friday Grand Tasting and Saturday Farm to Table Luncheon – $155
• Sunday Van's Refreshments & Deals – Free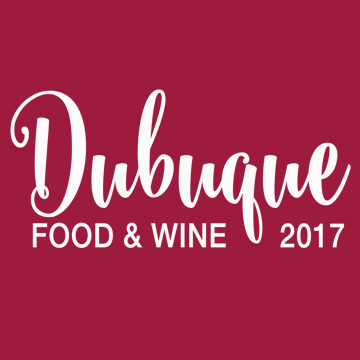 For detailed information and ticket purchase, go to www.DBQFoodAndWine.com. Mississippi Moon Bar is age-restricted; attendees must be 21 years or older.
Editor's note: The information in this article was provided by Dubuque Food & Wine 2017.