The University of Dubuque Heritage Center will honor veterans and military personnel this month with a Cantus Vocal Ensemble performance and Quilts of Valor presentation on Friday, Feb. 17.
Cantus' "No Greater Love Than This" will begin at 7:30 p.m. in Heritage Center, John and Alice Butler Hall. The nine-member men's vocal ensemble is known worldwide for its trademark warmth and blend, as well as its engaging performances. Appearing in 30 cities, "No Greater Love Than This" addresses the bravery, honor, elation, loss and longing common to soldiers in times of war and peace. Emotions shared between loved ones at home and abroad will also be explored in the performance.
Cantus sings without a conductor or amplification, creating a unique performance.
"The audience can expect effortless harmony and blend from singers who are nothing short of seasoned professionals," said Thomas Robbins, the executive director of Heritage Center. "Audiences are left breathless, smiling ear to ear, or in tears depending on the song."

Thanks to support from Radio Dubuque and its affiliate stations, free admission is available to veterans, military personnel and reserve components. However, a ticket is still required. Admission for all others is $24-$29 for adults, $20-$24 for UD alumni, and $10 for children and students. All seats are reserved.
"Radio Dubuque shares a mission with UD to honor the lives and selfless sacrifices of these men and women. Providing free admission is the least we can do to thank them for their service to our country and fellow citizens," Robbins said. "The performance's theme is 'No Greater Love Than This' with repertoire very poignant to the soldier experience, so it will be very meaningful to our local military and veterans."
The University of Dubuque Concert Choir will perform as a special guest with Cantus.
Prior to the concert, a special pre-show Quilts of Valor presentation and recognition ceremony will be held from 6 to 6:30 p.m. in Heritage Center, Babka Theatre. Cyndy Billmeyer, Northeast Iowa QOV coordinator, will discuss the QOV mission to thank and honor service members and veterans by giving them a wartime quilt. UD-affiliated veterans and military personnel including Maurice Anderson, Michael Ansel, Darrell Eickelkamp, Jack Felderman, Robert Felderman, Richard E. Goebel, Nicholas R. Lucy, Carl L. Moyer, Dr. Julian G. Nemmers, Michael Phillips and Nickas J. Yiannias will receive quilts.
"The Quilts of Valor program was initiated to honor veterans," said Retired U.S. Army Command Sergeant Major Rick Ernst, veterans admission and assistance coordinator at UD. "The quilts are not an abstract, cold block of wood, plastic or marble plaque or trophy. They are a way to provide a physical means of comforting those who have given so much to their country by wrapping them in a thankful embrace."
The quilts will be exhibited at the Bisignano Art Gallery beginning Monday, Feb. 6. Following the Quilts of Valor presentation, there will be a reception in the art gallery. The QOV presentation and reception are free and open to the public.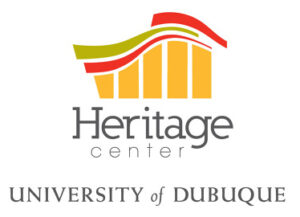 "The University of Dubuque has long been a supporter of the military and our veterans," Ernst said. "This is another means of providing recognition and thanks. It is also a wonderful way to recognize the artistry and beauty of the quilts and to recognize those volunteers who create them."
Other February events at Heritage Center include:
February 2, 7:30 p.m. – iLuminate: The Most Fun You'll Ever Have in the Dark (6 to 7 p.m. 5th Fret pre-show concert)
February 12, 2:00 p.m. – Alexander, Who's Not…Going to Move, Theatreworks USA [New York City]
February 22, 7:30 p.m. – Shadowland by Pilobolus Dance Theater (6 to 7 p.m. Tapestry pre-show concert)
February 24, 7:30 p.m. – The Young Irelanders (6 to 7 p.m. Ballyheigue pre-show concert)
Tickets for all events on sale now at the Farber Box Office Monday through Friday from 10 a.m. to 5 p.m. at Heritage Center, University of Dubuque, 2255 Bennett Street; by phone at 563.585.SHOW; or online at www.dbq.edu/heritagecenter.